The maritime industry is at the heart of San Diego Bay and the surrounding region.
May is Maritime Month at the Port of San Diego. It is our region's unique celebration of National Maritime Day, which is May 22. In 1933, Congress declared National Maritime Day to commemorate the American steamship Savannah's voyage from the United States to England, marking the first successful crossing of the Atlantic Ocean with steam propulsion. National Maritime Day pays special tribute to the merchant marines and to the benefits that the maritime industry provides to the country.  
---
The maritime industry in San Diego is responsible for about 13,400 direct jobs and has a $2.7 billion economic impact on the region. The Port's two cargo terminals provide 1,500 family-sustaining jobs and our local shipbuilding and repair industry supports approximately 14,000 jobs. 
The Port of San Diego sends out a special thank you to the men and women who work in the maritime industry on San Diego Bay. They include Port maritime staff and employees of our Working Waterfront tenants. They also include longshoremen and women, stevedores, ship's agents and many more.  
This year, we once again spotlight a few of these hardworking men and women and we will show you how their jobs help get vessels safely to the Port and how they get cargo safely and swiftly off the terminals and to the customers.  
---
Maritime Month Spotlight:
Sierra Landaiche — Environmental Engineer 
Sierra Landaiche is an environmental engineer with General Dynamics NASSCO at the Port of San Diego.
"We impact San Diego by creating thousands of jobs; it's a pretty large business here," Sierra says. "We impact the entire country by supporting the Navy, building and repairing their ships."
In addition to creating more than 3,500 local jobs and supporting the military, General Dynamics NASSCO also protects the San Diego region by remaining stewards of the environment.
"We minimize the impacts of waste generation, electricity usage, potential pollution," Sierra says. "Our job is to continually be improving our programs to reduce our impacts on the environment." 
These programs include collaborating with SANDAG's iCommute initiative program that offers funding for van pool programs to help employees carpool from far locations. 
"We also support biking, creating bike routes and bike lockers, and funding MTS passes," Sierra says. "Just all kinds of sustainable commute options, trying to get the word out there and help make it financially feasible for our employees."
If she were to leave Port of San Diego by water, Sierra knows just where she'd go.
"If I got to take any vessel anywhere, I would is grab my dad, and we would take the Matthew Turner, which is this 1800s style tall ship that was built by a nonprofit," she says. "My dad contributed to it, so it's one of his proudest achievements. We would go sail on the Matthew Turner out to Hawaii. It's going to be awesome."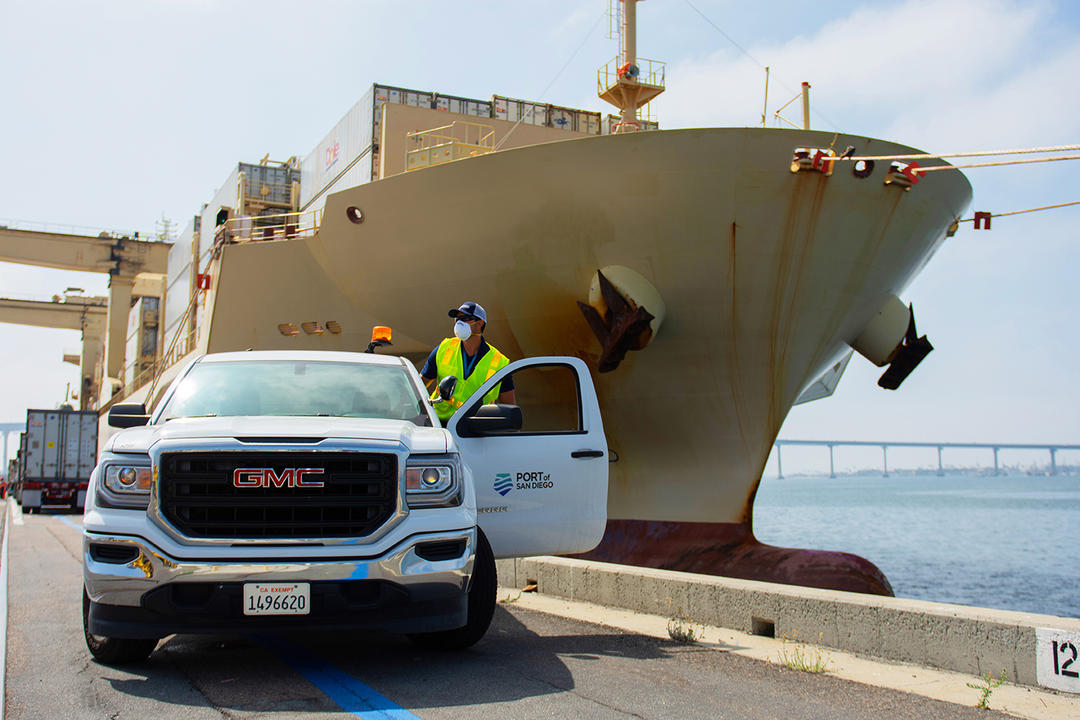 Meet the Working Waterfront
We are proud to highlight some of our hardworking men and women who continue to ensure the safe and timely delivery of essential goods, providing crucial services in these difficult times.
---
Cargo Spotlight: Zucarmex
Zucarmex is a Mexico-based sugar company that started their import operations in San Diego in 2018. Their raw sugar is loaded at the Port of Salina Cruz, a seaport on the Pacific coast of the Mexican state of Oaxaca, and imported through the Port's Tenth Avenue Marine Terminal. They operate 6 factories with a combined capacity to produce 1.3 million metric tons per year, a certified liquid sugar plant, and 250,000 sq. ft. of warehouse space in San Diego. All while employing over 5,000 people in North America. The imported raw sugar is finished in the US, with four distributed products and brands: Refined Cane Sugar, Zulka Morena, Purasource Organic Evaporated Cane Juice and Liquid Sugar. In 2021 alone, Zucarmex imported 106,000 metric tons through the Tenth Avenue Marine Terminal.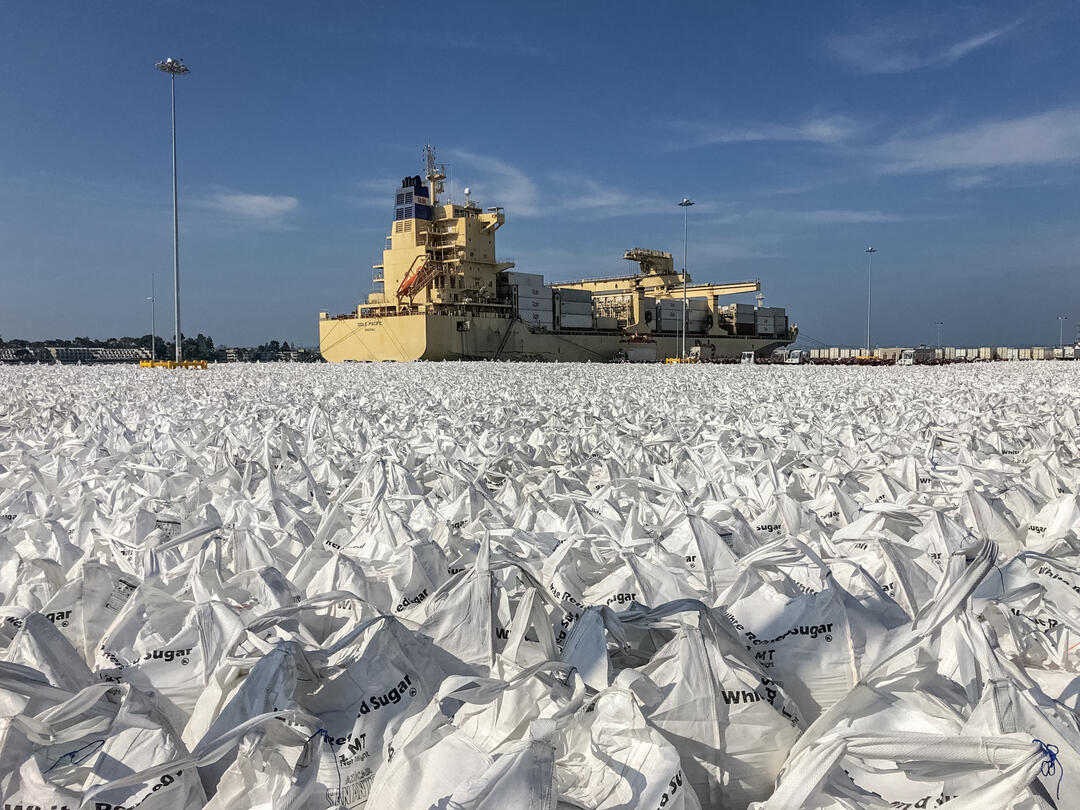 ---
Know your ships: 
The Port of San Diego is a specialty port and we process several unique types of cargo. There are many different vessel types that do business at the Port of San Diego. These include RO-RO vessels, break bulk vessels, bulk vessels, refrigerated container vessels, navy vessels, research vessels, cruise vessels, and more. 
Bulk Carrier
A bulk carrier is specifically designed to transport unpackaged bulk cargo such as grains and cement. The Port receives bauxite from Australia on bulk carriers. In 2020, we processed just under 113,000 metric tons of bauxite at the Port's Tenth Avenue Marine Terminal.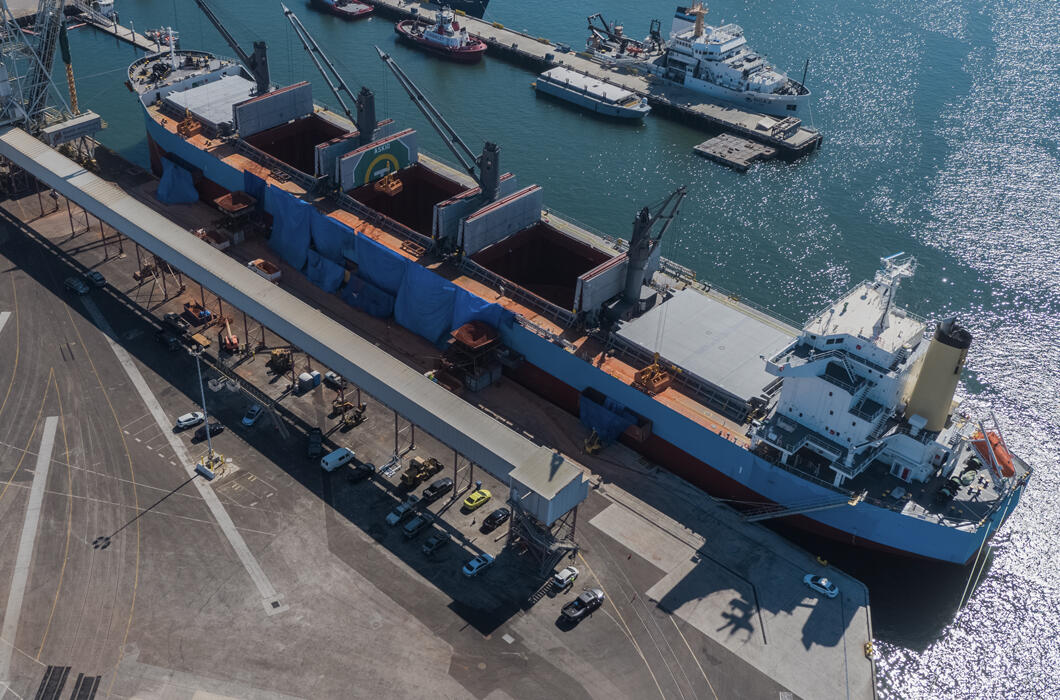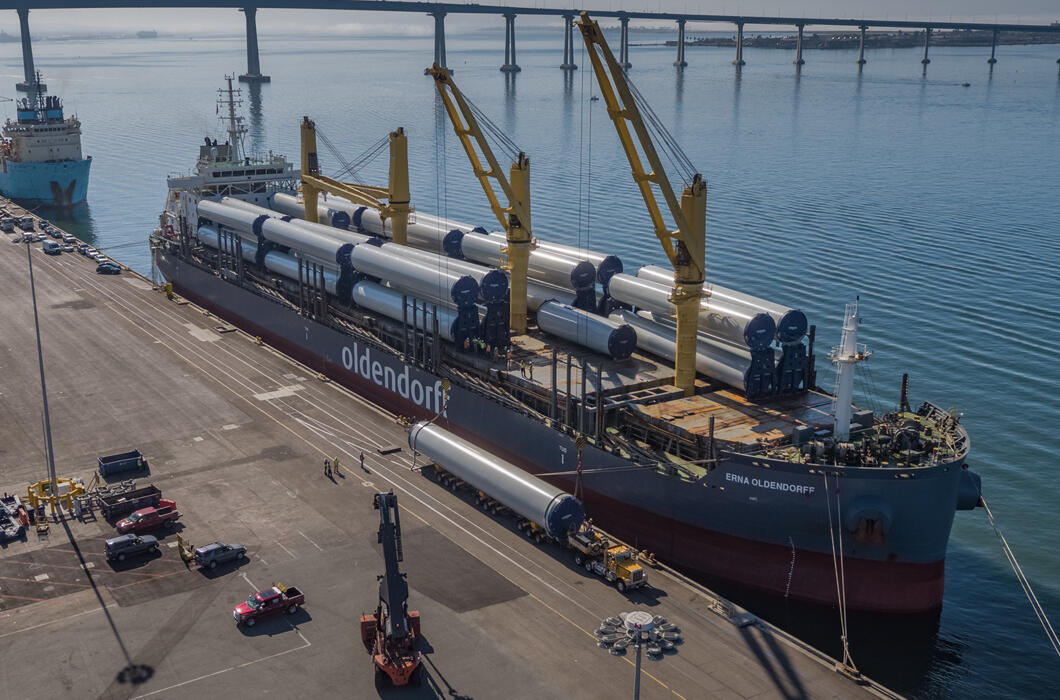 Breakbulk Carrier
These vessels are designed to carry cargo that is palletized, bagged, strapped or bundled. The Port receives shipments of bagged fertilizer from Norway on breakbulk carriers. It also receives project cargo, windmill components, yachts and other cargo on these types of vessels. 
Container Ship
A container ship is a cargo ship that carries all its load in truck-size intermodal containers in a technique called containerization. Container ships are a common means of commercial intermodal freight transport and now carry most seagoing non-bulk cargo. The Port receives weekly shipments of bananas and other perishables on these types of vessels. In 2020, the Port processed about 74,000 containers at its Tenth Avenue Marine Terminal.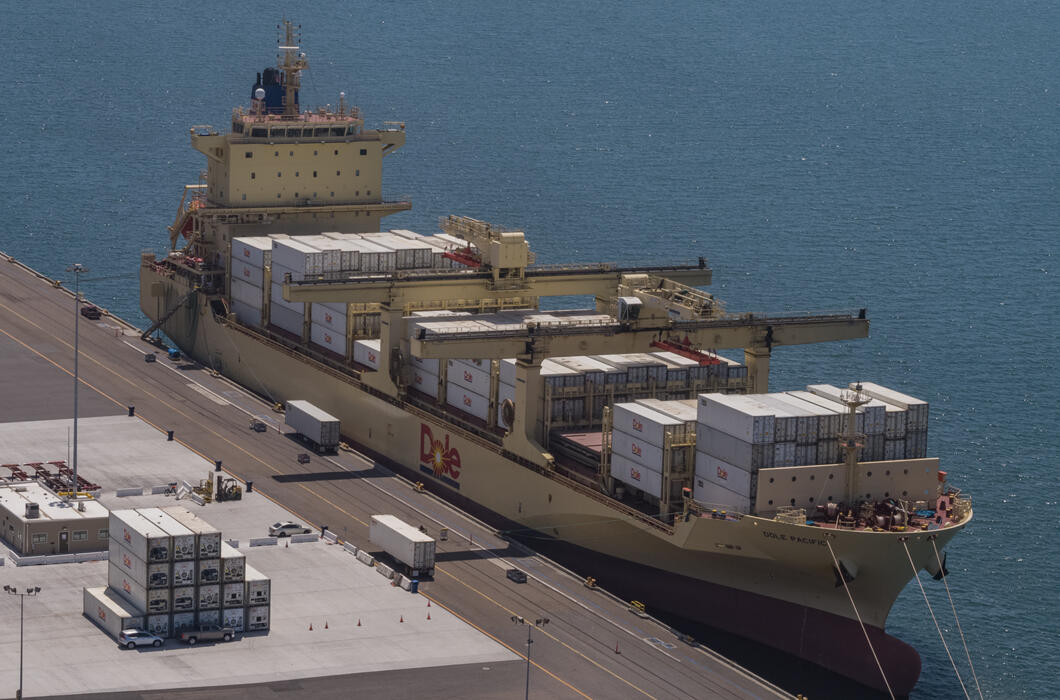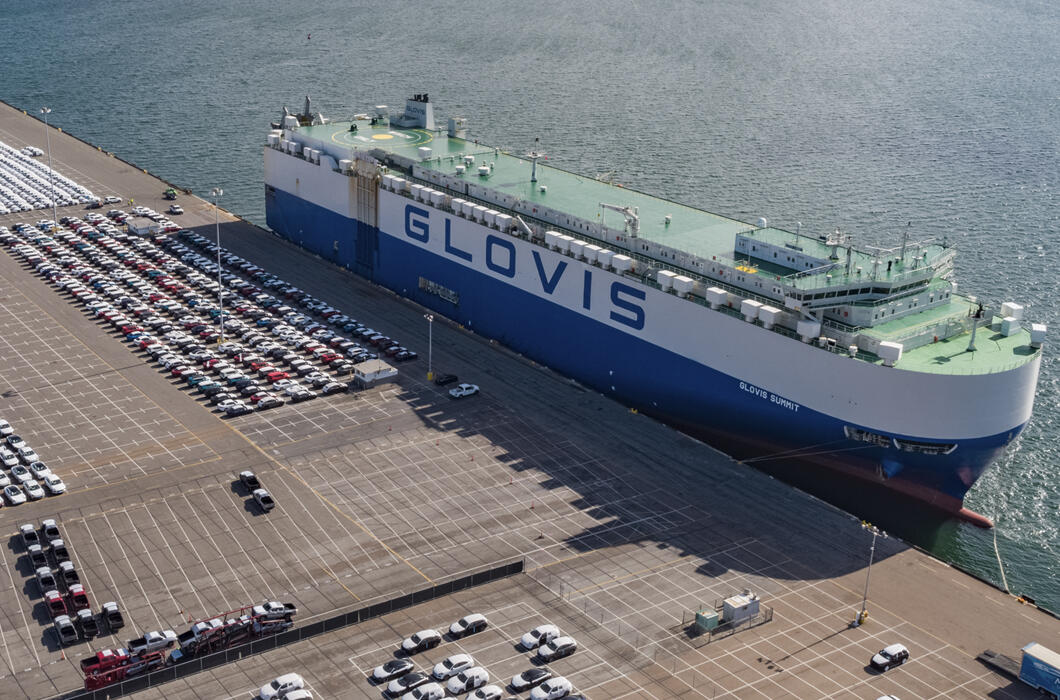 RO-RO Ship
RO-RO vessels have either built-in or shore-based ramps or ferry slips that allow the cargo to be efficiently rolled on and off the vessel when in port. The Port of San Diego receives imports of vehicles on this type of vessel. In 2020, almost 400,000 imported vehicles were processed at the Port's National City Marine Terminal. These included Fiats, Hondas, Hyundais, Audis, Bentleys, Lamborghinis, Porches, Volkswagens and Toyota Tacoma trucks.  
Marine terminals
The Port of San Diego is the nation's specialty cargo gateway to the Pacific, situated in the natural, deep-water harbor of San Diego Bay.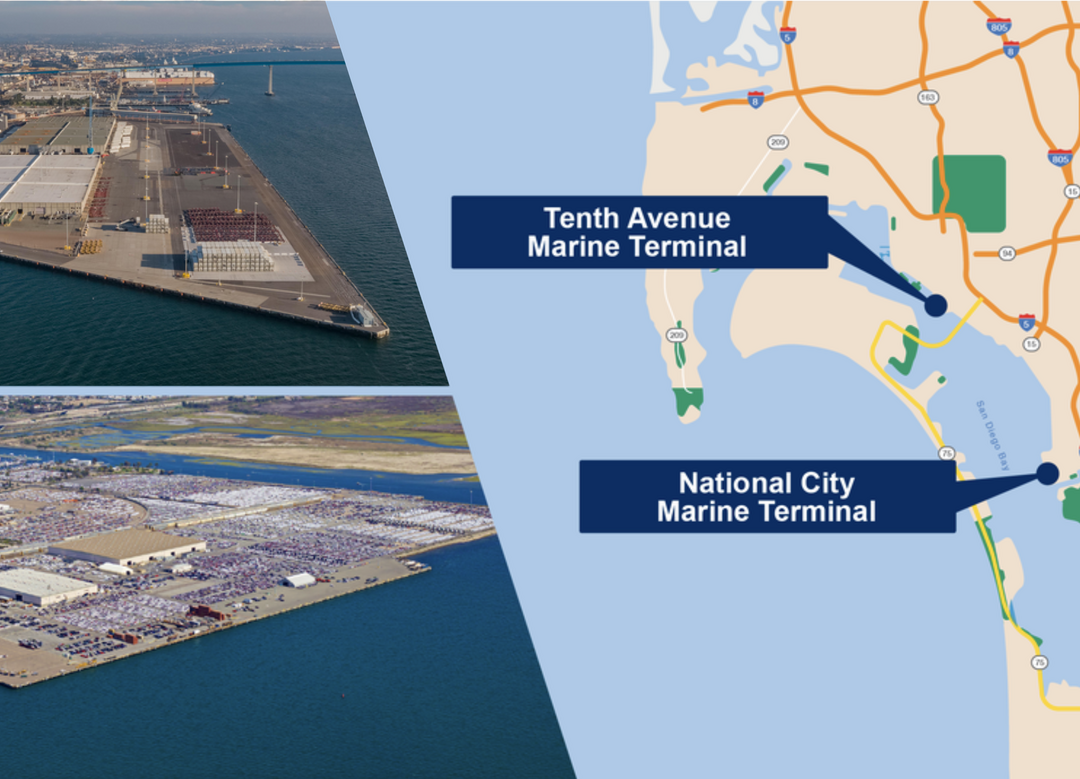 Marine Terminals
Tenth Avenue Marine Terminal
Bananas/Pineapples
Aggregates
Sugar
Specialty Cargo
National City Marine Terminal
Broadway Pier & Port Pavilion
San Diego Bay Working Waterfront Map:
click on the icons to learn more
Meet The People of the Working Waterfront