San Diego's Blue Tech Bay
As a leader, the Port is actively driving the sustainable development of the Blue Economy. By supporting entrepreneurship and partnering with other leaders in research and innovation, the Port is bringing advanced solutions to San Diego Bay, affirming its reputation as the Blue Tech Bay.
---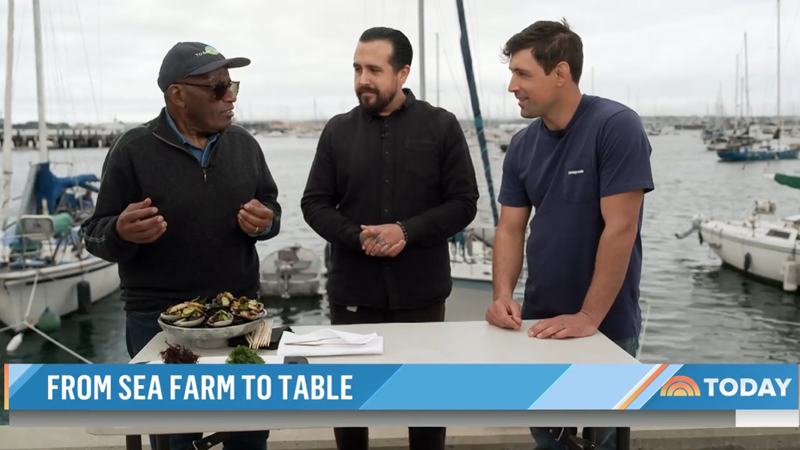 As environmental champions of San Diego Bay, our Blue Economy Incubator is just one of the ways we are leveraging technology to help preserve and protect our planet's resources while serving the needs of today's world. We recently had the opportunity to educate TODAY Show audiences on the many benefits of aquaculture and blue technology by showcasing our Blue Economy Incubator.
Click here to see why our projects are making waves across the nation.
(Link opens to the TODAY Show website.)
Aquaculture & Blue Technology Program 
The Port established the Aquaculture and Blue Technology Program recognizing the growth opportunities of the Blue Economy sector and its strategic position within the world's leading blue technology clusters.
Aquaculture is the practice of growing plants and/or animals in aquatic environments. This can occur in fresh or salt water and it can be done for food production or for other purposes such as alternative fuel, packaging, bioremediation, and fertilizers.
The Port is taking an active leadership role in the expanding domestic aquaculture industry and facilitating early development of regional marine aquaculture projects.
Click here for more information on the Port's Aquaculture planning and pre-development studies
---
Blue Economy Incubator (BEI)
The Port's Blue Economy Incubator (BEI) is building a portfolio of businesses and partnerships that deliver multiple social, environmental, and economic co-benefits to the Port and the region by removing barriers to entrepreneurs and providing funding, key assets, support services including entitlement and permitting assistance, and pilot project facilitation. 
Ideas to work sustainably within the marine environment can come from anywhere. The best ideas will transition into concepts, design plans, and then prototypes. After the testing and validation is completed within a lab setting, it's time to deploy the technology in a real-world setting. That's when the Port's BEI can play a role and help emerging businesses deploy their products and services in and around San Diego Bay.
Click here for opportunities to engage with the Port
To be considered for the BEI, new and early-stage ventures follow a four-step application process which includes the submission of a "pitch deck" and various stages of review. It all starts with a discussion with the Port's BEI team.
Click for Blue Economy Incubator Proposal Process 
To date, the Port has committed $1.7 million in funding, provided use of Port-owned property, assisted with obtaining all necessary regulatory and operational permits, coordinated the installation of the pilot projects, and helped with community and media relations.
---
Blue Economy Pilot Projects