Ocean Entrepreneurship
As part of our efforts to continue leading and accelerating the Blue Economy, in 2016, we established an Aquaculture and Blue Tech Program to assist in the creation, early development, and initial scaling of new Blue Economy business ventures along San Diego Bay. Under the program, the Port is building a Blue Economy Incubator to support entrepreneurship, foster sustainable aquaculture, and help drive blue tech innovation.
Other pilot projects currently supported through the Port's Blue Economy Incubator include:
San Diego-based Company Red Lion Chem Tech, Inc. – to demonstrate their core technology to remove soluble copper in seawater through active and passive filtration system.
Sweden-based Company Rentunder Boatwash – to demonstrate their Drive-in Boatwash technology, a new approach for in-water haul cleaning, to help reduce copper particulates released into the Bay.
Canada-based Company Swell Advantage – to improve their technology and smart phone application to automate and optimize the management of the marina, and improve revenues.
FLUPSY at Sunrise
A FLUPSY, or Floating Upweller System, is a floating barge that circulates water through compartments or bins holding shellfish, in this case oysters, as they grow from seed (about the size of a red pepper flake) to juvenile stage (about the size of a quarter). The circulated water enables the seed to grow more quickly and uniformly than in natural habitats because they receive a constant supply of food and oxygen. The Port, in partnership with San Diego Bay Aquaculture, is growing them until they are about three- or four-months old and then exporting them to a final grow-out location in northern California and other Pacific Northwest location as far north as Alaska. San Diego Bay's warm, nutrient-rich water is a competitive advantage over northern shellfish nursery sites because seed-to-harvest time is reduced up to one year as compared to northern growers. Our goal is to demonstrate that shellfish nursery operations in San Diego Bay can support a viable new shellfish aquaculture business.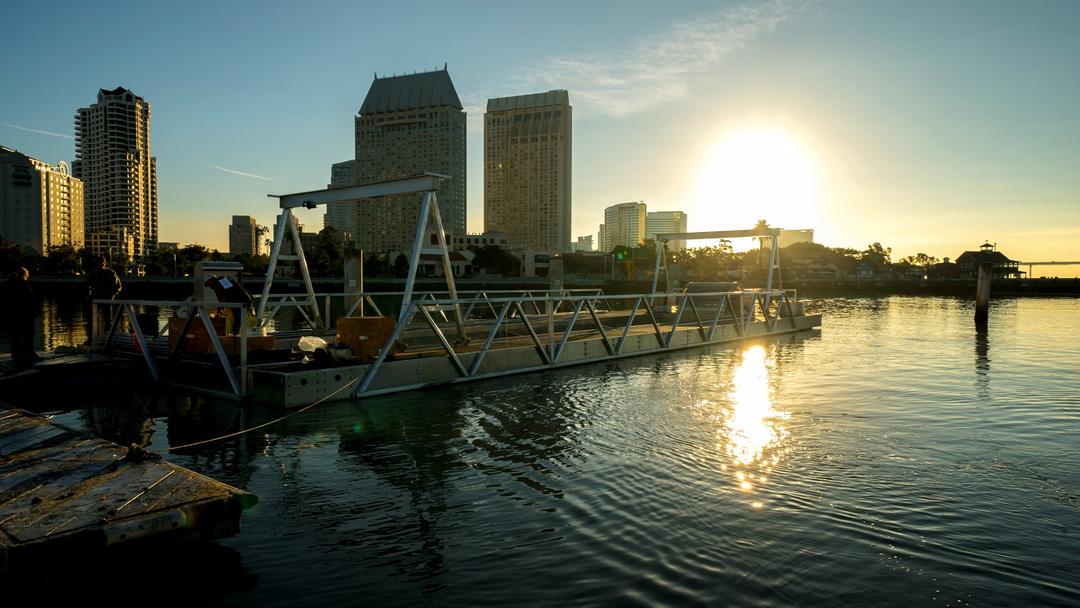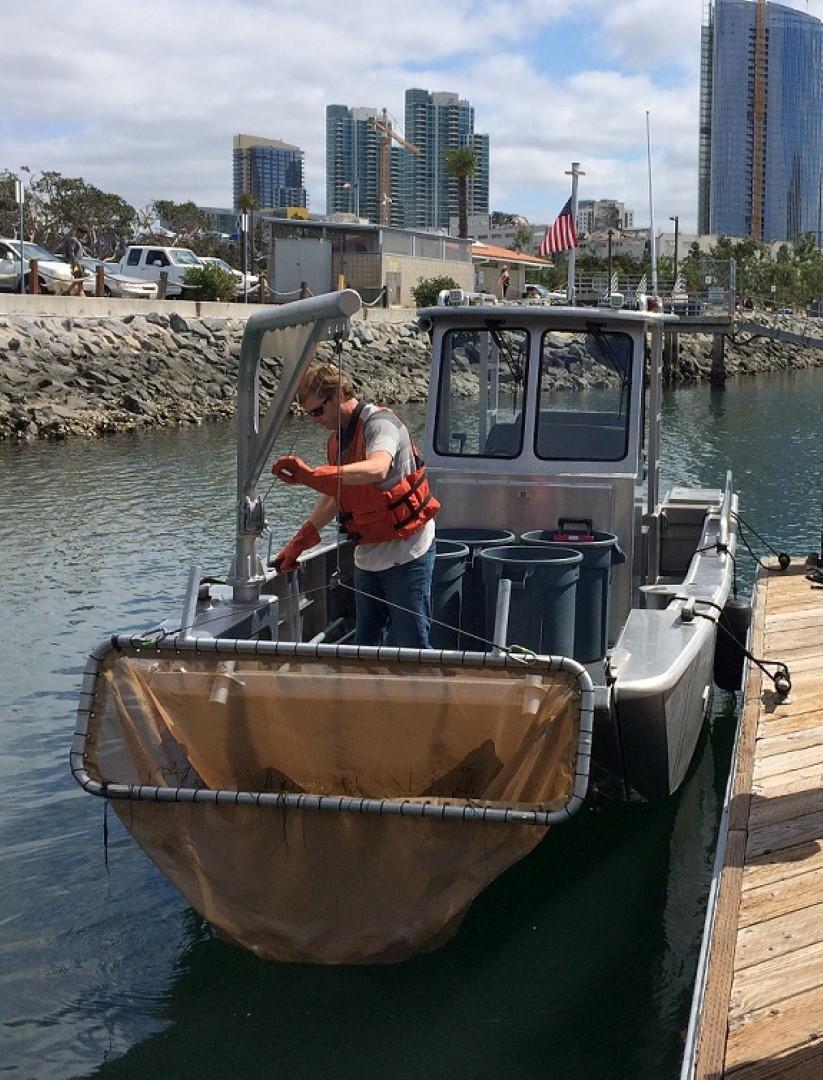 A Cleaner Bay
As part of a pilot project in the Port's Blue Economy Incubator, Zephyr Debris Removal LLC aims to demonstrate the effectiveness and scalability of its custom-made, debris removing vessel in San Diego Bay. The vessel uses skimming technology and is designed to remove marine debris, such as plastic bottles and other trash, and solve a variety of logistical hurdles including efficient removal of small debris, such as microplastics, and access to shallow and/or rough water. The pilot project will also develop a database for key variables influencing marine debris accumulation in San Diego Bay - such as seasons, weather events and tidal swings.
Frequently Asked Questions
What is aquaculture and blue tech?
Aquaculture encompasses the cultivation of shellfish, fish, and plants. The aquaculture sector is driven by a growing global demand for seafood and the lack of a domestic supply, representing a new business opportunity.
Blue tech is the advanced technology sector of the maritime industry, which drives sustainable innovation across emerging markets of the Blue Economy. It includes a broad spectrum of industries and innovative technologies focused on promoting sustainable ocean activities.
What is the opportunity in aquaculture?
In the U.S., we import 91 percent of the seafood that we consume, of which 50 percent is farmed, according to the National Oceanic and Atmospheric Administration (2012, National Marine Fisheries Service). The vast majority of farmed seafood comes from Asian countries. There is an opportunity for increased domestic supply.
What services/support portfolio does the Blue Economy Incubator offer to blue tech and aquaculture businesses?
Pilot project facilitation
Permit-ready infrastructure
Land and water entitlements
Market access
Strategic funding
How is the Port's incubator different from a typical incubator?
Traditional incubators typically offer subsidized office space, shared administrative services, and start-up mentorship. However, our Port-led Blue Economy incubator is acting as a launching pad for innovative projects and new ideas by removing barriers to entrepreneurs and providing key assets and services focused on pilot project facilitation such as permit-ready infrastructure, entitlements, market access, and strategic funding.
What is the application process for the Port's Blue Economy incubator?
The Blue Economy Incubator application process is comprised of a four step cross-departmental due diligence process, which balances each proposal's potential social and environmental benefits; alignment with the Port's core mission and Public Trust obligations; as well as the potential financial return to the Port. To be selected for review, proposals need to provide the required business plan information for staff to analyze the market feasibility, operational/financial viability of the proposal, and alignment with the incubator objectives. The four-step review process is as follows:
Step 1 consists of a cross-departmental review of proposals involving Port subject matter experts. The review and due diligence process includes evaluating the risks, as well as the potential financial, social, and environmental benefits of the proposals.
Step 2 consists of face-to-face meetings between the proposers and the Incubator Committee. This committee is comprised of the Port's Chief Financial Officer, Chief Operations Officer, staff from the General Counsel's Office, Business Director, and subject matter experts. The Incubator Committee provides a recommendation – if a proposal should be advanced to the next step.
Step 3 consists of a review of proposals advanced by the Incubator Committee to the Board's Blue Economy Investment Ad-Hoc Committee. The Ad-Hoc Committee provides direction and feedback regarding forwarding the proposals to the Board for consideration.
Step 4 consists of a staff recommendation to the Board of Port Commissioners to begin negotiating agreements and/or requesting Board approval of agreements with specific proposers.
Where can businesses learn more about the Port's Blue Economy Incubator?