Attention Boaters and In-Water Hull Cleaners
As part of our Copper Reduction Program, the Port of San Diego invites boaters, hull cleaners, and marina and yacht club operators and managers in the San Diego Bay boating community to participate in our In-Water Hull Cleaning Survey to help the Port better understand how vessels are being cleaned.
Information collected via the survey may help Port staff better understand the cleaning strategies used in San Diego Bay and inform potential next steps in our collective effort to improve water quality.
If you are a boat owner, click here to take the survey.
If you are a marina or a yacht club operator or manager, click here to take the survey.
If you are a hull cleaner, click here to take the survey.
Surveys are open until midnight Sunday, March 21, 2021. Thank you and we look forward to your input!
For any questions, please email hullcleaning@portofsandiego.org
Copper Reduction Program
The Port of San Diego is a regional leader in improving water quality in San Diego Bay. Through the Copper Reduction Program, the Port is engaging with the boating community to reduce levels of dissolved copper in marina basins around the bay as it can be harmful to marine animals and plants.
The Port's Copper Reduction Program focuses on the largest source of copper - boat hull paints - and identifies an approach to improve water quality and achieve compliance with regulations while balancing economic and public interests. The Board of Port Commissioners Resolution (2009-230) champions copper reduction as part of its environmental stewardship mission.  
In San Diego Bay, Shelter Island Yacht Basin (SIYB) has been identified as an area where high copper levels exceed federal and state standards. A regulatory order requires the Port of San Diego, marinas, yacht clubs, hull cleaners and boaters to reduce copper pollution in this area by 76 percent by 2022. Together with the boating community, we've reduced copper loading in SIYB by 45 percent to improve water quality.
The Dissolved Copper Water Quality readings show regulatory listings for water body impairments around San Diego Bay. Below is a recent assessment of copper levels in San Diego Bay: 
The Port's Copper Reduction Program focuses on:
Policy development and legislation related to in-water hull cleaning and hull paints
Conducting site-specific and baywide monitoring
Encouraging hull paint conversions 
Conducting hull paint testing and research
Conducting community outreach and engagement 
---
In-Water Hull Cleaning Policy Development
The Port of San Diego adopted In-Water Hull Cleaning regulations in 2012 to reduce or eliminate copper pollution caused by hull cleaning activities in San Diego Bay. The ordinance requires the use of Best Management Practices (BMPs) for anyone doing in-water hull cleaning. The In-Water Hull Cleaning Permit is a bay-wide permit that all businesses must obtain prior to conducting in-water hull cleaning services.
In late 2019 into early 2020, Port staff conducted outreach and engaged with the boating community regarding proposed amendments to the Port's proposed ordinance for in-water hull cleaning. To view all supporting documents and resources,click here. To access comments received during the draft ordinance public comment period,click here. The Port appreciates the engagement and comments received on the this topic. Port staff continues to evaluate the feedback and potential next steps.
The Ordinance (adopted in 2012)
Requires the use of BMPs for any business doing in-water hull cleaning on recreational or commercial boats

Requires permits for all hull-cleaning businesses
The Permit
All hull cleaning businesses are required to obtain a permit

The permit fee is $250
*The Port is currently reviewing and seeking to update existing policies related to in-water hull cleaning. Until the review is complete, please send any inquiries regarding obtaining or renewing a permit to hullcleaning@portofsandiego.org.
Legislation Support
One of the goals of the Copper Reduction Program is to promote regulatory change at the state level and to develop local policies, procedures or permits to address copper pollution. Over the past several years, the Port has supported multiple state representatives and their regulations that impact the water and air quality.
Senate Bill 623 (Suspended in 2012) to eliminate copper in marine antifouling paint
Assembly Bill 425, related to registering copper-based antifouling paint
Senate Bill 346, related to removing copper in automotive brake pads
The Board of Port Commissioners has also:
Supported the California Environmental Protection Agency Department of Pesticide Regulation's re-evaluation of hull paints;
Approved the Port's environmental department receiving a $180,000 grant from the Environmental Protection Agency to study alternative paints;
Approved a State 319h grant for $600,000 to assist boaters in switching from copper-based hull paint to a non-copper alternative;
Approved three grants totaling $230,000 through the Port's Environmental Fund for outside parties to develop alternative hull paints; and
Approved projects aimed at reducing copper in water through the Blue Economy Incubator.
Converting to non-copper hull paint is foundational to the Port's Copper Reduction Program. Reducing the use of copper hull paint - a major source of copper pollution in marina basins - will help improve water quality.
 The Port is helping to spread awareness of non-copper alternatives by funding research projects, testing non-copper hull paints in San Diego Bay, and developing outreach materials and tools.
Leading By Example: The Port has converted all boats in its fleet to non-copper hull paints. The fleet includes both Harbor Police boats and General Services work boats.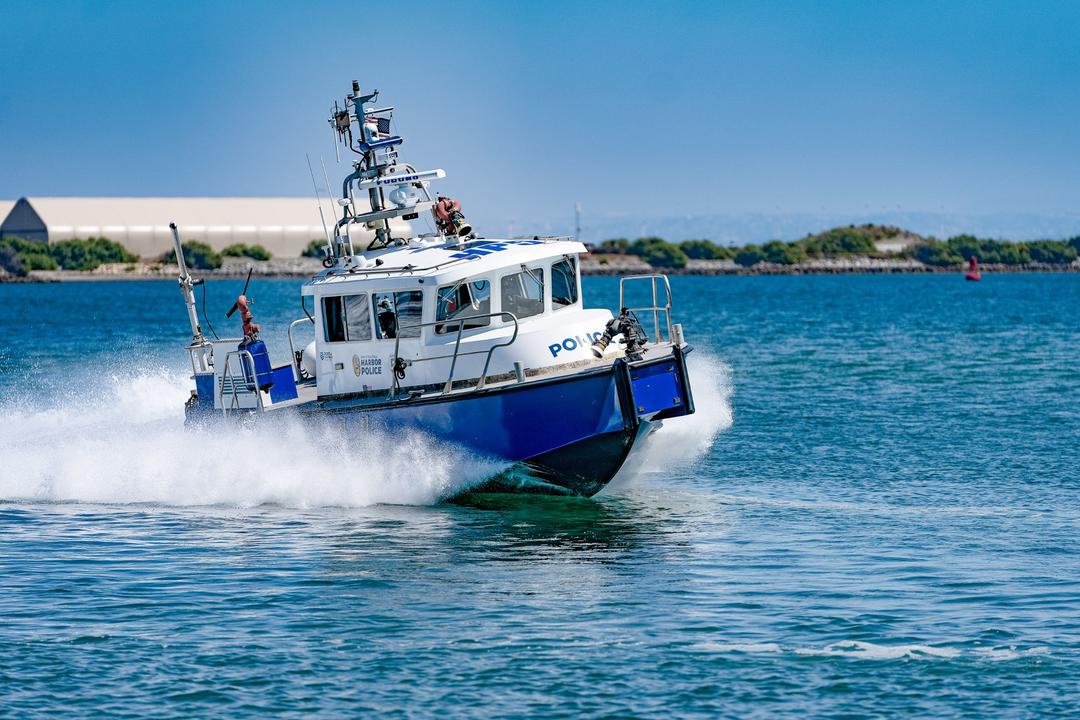 Alternative Hull Paints
Copper from anti-fouling hull paints can be a significant source of water pollution in marina basins. Copper harms marine life by impeding or altering their development. As a result, boaters are encouraged to consider converting to alternative hull paints that are better for the environment. 
The Environmental Protection Agency provided funding for the Port of San Diego to conduct a study that evaluated a variety of alternative hull paints. The three-year study, "The Safer Alternatives to Copper based Antifouling Paints," evaluated a variety of alternative hull paints. Twenty-one of these paints performed well when compared to copper hull paints and 11 were further tested in real-life scenarios on boats. The study concluded that alternative hull paints are environmentally-friendly, cost-effective and are an effective replacement.
Helpful Tools for Boaters
Boater's Guide to Choosing Hull Paints in California
How to Select an Alternative Hull Paint
Boater Testimonials
Read what San Diego boaters have to say about their experience with eco-friendly paints.
"I get underway about twice a month, I bring the boat up to its cruising speed for a few minutes, which I'm normally doing in my operation anyway, and all the marine growth flies off the bottom of the boat."

~ Todd Roberts (Bottomspeed)

"The cleaning has been cut down…some boats it would take three hours to clean…and now… we can get in there and clean it in fifteen to twenty minutes. I can just use my glove to clean it. I can actually just use a glove!"

~ Thomas Hahn (Intersleek 900)