Plan a Waterfront Getaway
Pack your bags, it's time to stay and play at the San Diego Bay waterfront. Whether you need a few hours, one night, or a few days, you deserve some time away with a short and sweet getaway! A visit to San Diego Bay will give you just the break you need to discover fun adventures along the water's edge.
A Two Night Stay on Shelter Island
You'll feel miles away with a stay in this secluded area of San Diego. Every hotel along Shelter Island Drive provides the change of scenery you've been dreaming of with resort ambiance, remarkable views, and stunning scenery.
Whether you want to bike along Shoreline Park with complimentary bicycle rentals as a guest of the Best Western Plus Island Palms Resort, take a dip at the pool overlooking their private marina at The Bay Club Hotel & Marina, or escape to a private tropical oasis at Humphreys Half Moon Inn, Shelter Island has something for everyone! Experience intimate moments at one of the dining establishments at each hotel or visit Bali Hai Restaurant for their infamous Mai Tais.
A Day of Food and Play
Start your day with a sailing excursion on the water. Choose from whale watching or a three-hour sailing tour with Sail San Diego or a trip on the Triton Catamaran Charters, San Diego's largest catamaran yacht charter with an upbeat feeling and a waterslide on board. If you're looking for more action, reserve an adventure with H&M Landing, the largest fleet of charter vessels on the West Coast with tours including half day fishing trips and full day lobster hopping.
Once you're back on land, admire your day on the water with waterfront dining options that offer scenic views from every seat in the house. No matter what you're craving, these restaurants will fill your hunger needs.
Jimmy's Famous American Tavern – High quality, classic American fare and a robust selection of rare and top-shelf whiskeys.
Mitch's Seafood (pictured)– Simply prepared, California-style seafood paired with craft beer and wine from California.
Pizza Nova –

S

erving up San Diego's best wood-fired pizzas, pastas and salads.
An Overnight Escape
Bay and city views, lavish dining, and fun-filled water activities await you when you book a stay at the Marriott Marquis San Diego Marina. This sleek hotel offers a beautiful atmosphere inside and out, tropical scenery and delectable Hawaiian fusion cuisine from Roy's Restaurant, and is steps away from an array of boats, kayaks, and jet skis to ride and rent from Seaforth Boat Rentals.
With close proximity to the city's most popular attractions, the Best Western Yacht Harbor Hotel and Holiday Inn San Diego Bayside both offer breathtaking views from each room's balcony and are within easy reach of San Diego's coolest spots. Close to Shelter Island, Harbor Island, Point Loma, and Downtown San Diego, these are perfect options for those times when you need a night away.
Treat yourself to a trip across the bay and visit the Coronado Bayside. The Coronado Island Marriott Resort & Spa is a tranquil shift from your everyday life offering a peaceful place to take a rest with nearby activities to fill the day. For a relaxing waterfront view, dIne in delight and experience flavorful alfresco dining from locally sourced ingredients at ALBACA(pictured).
Walk or bike to Tidelands Park and find a space to sit and relax on the grass or beach, or take Flagship Cruises & Event's Ferry for a scenic boat ride to and from downtown, and stroll more than 20 shops and take in some of San Diego's tastiest waterfront dining at the Coronado Ferry Landing. When visiting on a weekend, be sure to stop by during the afternoon for their weekend concert series featuring live music by local artists.
A Day Away
For a sunny, classic SoCal experience, make it a day at Imperial Beach and Pier. Enjoy a long stretch of sand, a bike ride around this beachy town, or walk along the beachfront wooden pier for panoramic ocean views, fishing, and beers and grub at Tin Fish Restaurant at the end of the pier. Snap a photo with the new bright and colorful destination murals along the pier and some of the sculptures and artworks off the pier at Dunes Park.
Whether you need some time in the water by boat, paddle board or kayak, or a tranquil spot that's relaxing, a visit to Bayside Park in Chula Vista or Pepper Park in National City will both provide a cozy option for a peaceful picnic, a new place to lay your yoga mat, or a way to get in the bay! With accessible launch ramps, plenty of shady trees, and a quiet atmosphere, these areas are great places to unwind.
Plan a staycation. Coast through life at Southern California's newest, upscale resort, located just outside of San Diego, California. With vacation rentals, RV sites, and amazing amenities, you can do it all or nothing at all at Sun Outdoors San Diego Bay.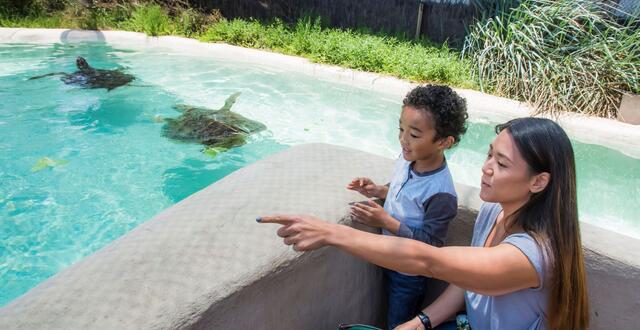 Whether you've been in San Diego for five years or 30 years, there is always something new to see, do, and rediscover along the Port of San Diego's dynamic San Diego Bay. Be amazed by unique sights, sounds and flavors across 34 miles of the…
Read More About

Discover Hidden Gems Along San Diego Bay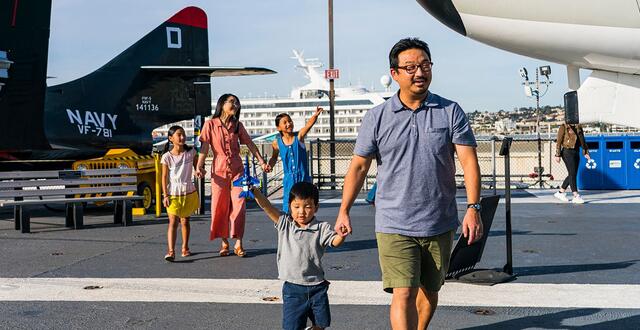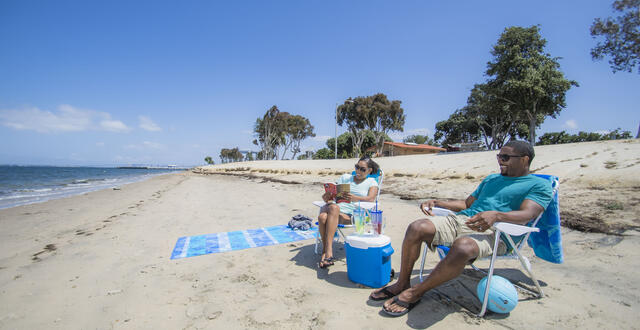 What better time than now to spend some quality time outdoors? The Chula Vista Bayfront features incredible views of the bay, sea breezes and a serene atmosphere. Parks, waterfront dining and water sports rentals are open for business – making it the…
Read More About

Explore Nature on the Chula Vista Bayfront