Getting Around the Port of San Diego
Parking at the waterfront is easy and convenient. You'll find options for short-term parking, long-term parking, covered parking, oversized vehicle parking and boat trailer parking. Overnight and cruise guest parking is available at designated, 24-hour lots in downtown San Diego. Covered parking is offered at Wyndham San Diego Bayside, located across the street from San Diego's two cruise ship terminals.
Traveling along the waterfront is simple and fun. Explore the Port using walkways, bike paths, carpools, ride-sharing, bus service or the Trolley, San Diego's light rail system. Launch your boat, kayak or paddleboard from one of the many boat launches or beaches and explore offshore!
Click here for information on OVERSIZED VEHICLE PARKING REGULATIONS ON
TIDELANDS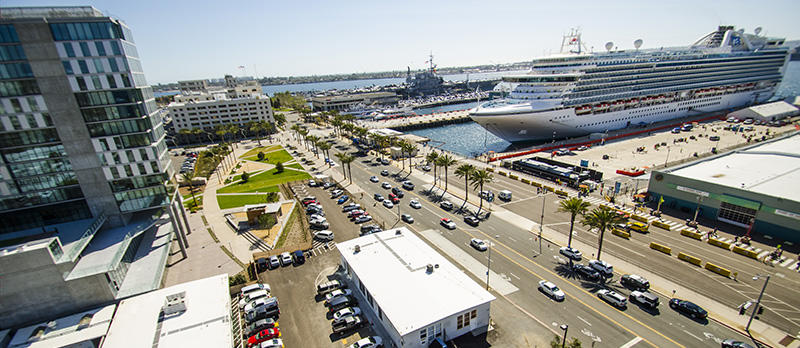 For any questions or concerns with parking please contact us at the following:
Frequently Asked Questions
Where can I park overnight?
For overnight parking, please contact one of our parking operators:
Ace Parking: 619.233.6624
ABM Parking: 619.233.2000
Park, Shuttle, & Fly: 619.291.1234
No overnight parking is allowed at any of our parks.  All of our parks close from 10:30 pm – 6:00am.
Do I need to pay for parking if I am charging my Electric Vehicle (EV)?
Yes, you will need to pay for parking while charging your vehicle. The Port has various designated EV charging stations located throughout our tidelands.  Opens to new website
Where can I park my oversized vehicle?
Oversized Overnight Parking:  
Please contact our parking operator, Ace Parking: 1.800.925.7275.
Can I park my vehicle at any of the boat launch ramps overnight?
Can I park in Public Park after hours or overnight?
No person shall enter, remain, stay or loiter in any Public Park (to include a parked vehicle) between the hours of 10:30 p.m. and 6:00 a.m. of the following day (San Diego Unified Port Code Section 8.02).