Where the energy of the city meets the flow of the bay
Seaport Village
Adjacent to downtown San Diego and the iconic USS Midway Museum, Seaport Village is a vibrant harbor-side hub of unique retailers, artisans and eateries. Situated on the waterfront, this dynamic shopping and dining complex debuted in 1980 and showcases 14 acres of Spanish-style storefronts, cobblestone walkways and an historic carousel. The outdoor venue, now owned and operated by the Port of San Diego, is home to 61 retailers including souvenir shops, a surf shop, and a wine tasting room. Seaport Village also boasts a collection of waterfront dining options, including cafes, fast-casual bistros and fine restaurants. Seaport Village will undergo redevelopment by the Port of San Diego to create a thriving multi-use venue. These events and partnerships signal Seaport Village's dedication to building a foundation of vibrant, community-oriented programming that creates both an immediate impact that creates an immediate impact for our community. Seaport Village is located at 849 West Harbor Drive, just a 5-minute drive from the airport and cruise ship terminal. Seasonal hours and parking rates vary. Additional information and a complete list of vendors can be found at
Hop on a yacht cruise and catch the sights, immerse yourself in a floating museum and soak in San Diego's history, or shop 'til you drop on the grass of a waterfront park. There's something for everyone on the Embarcadero.
Catch a world-class sunset, listen to live music and watch the cruise ships sail away. There's something for everyone at the Embarcadero.
#Embarcadero #SanDiegoBay #Wonderfront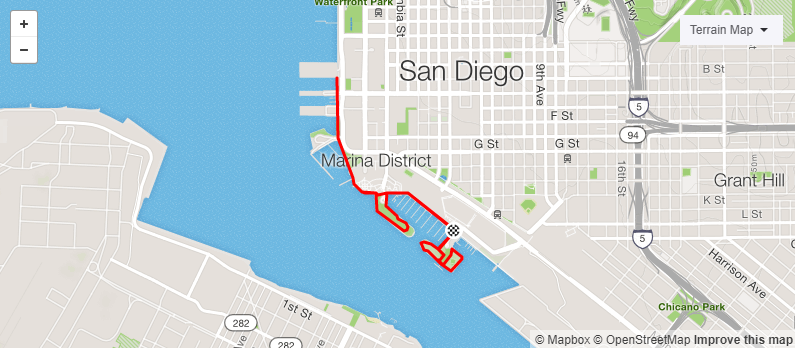 Summer is the time to #EscapetheIndoors and connect with nature. June is Great Outdoors Month® and your #Wonderfront is the place to go!
Wonderfront Embarcadero Run by the Port of San Diego and November Project San Diego
Distance: 3.68mi
Elevation Gain: 7ft
Run Type: Road