Maritime Month Spotlights
May is Maritime Month at the Port of San Diego. It's our region's unique celebration of National Maritime Day, which is May 22. National Maritime Day pays special tribute to the merchant marines and to the benefits that the maritime industry provides to the country.
This year, we pay special tribute to the men and women of our Working Waterfront who continue to work hard to ensure the safe and timely delivery of essential goods, providing crucial services in these difficult times. They include our own maritime operations employees, and employees of our maritime industrial tenants, along with our longshoremen and women, stevedores, San Diego Bay pilots, commercial and sportfishermen and many more.
---
Camron Pate — Longshoreman
A longshoreman for the past 23 years, Camron Pate plays an integral role at the Port of San Diego. 
"I'm a member of the International Longshore Warehouse Union in San Diego, Local 29," Camron says. In 2007. "I became the first African American female to be registered (as a longshoremen) in the port of San Diego."
When cruise ships arrive at the Port, for example, Camron helps secure their enormous ropes to the dock, unload passengers and baggage and then reload the vessel with outbound cargo. Camron's job along the working waterfront also involves loading and offloading Navy vessels and ships that bring precious cargo including cars, lumber and bauxite (aluminum ore). 
"What's gratifying (about my work) is that we supply entire United States as far as the commodities that they use in everyday life," Camron says.
So, what does a longshoremen dream of doing off the clock (and dock)?
"If I could take a cruise anywhere in the world, I would go to New Zealand," Pate says. "I've been there by air, but I have some friends who've never left the United States. I'd like them to go to see New Zealand."
Peter Halmay — Commercial Fisherman
Peter Halmay is a commercial fisherman at the Port of San Diego.
"I'm a sea urchin diver," he says. "I've been diving for a little over 50 years."
Peter is also President of the San Diego Fisherman's Working Group, which represents the 130 captains of commercial fishing boats in San Diego Bay. 
"Our purpose is to speak with one voice when dealing with any issues arising that deal with commercial fishermen, which could be the talking about the culture, the history, the economics of the fishery," Peter says. "And we like to give our side of the story when we deal about that."
Peter notes that, unlike Maine, which is famous for lobster, San Diego's unique seafood offering is its diversity. 
"What we're known for is catching 50 or 60 different species of fish," he says. "Here in San Diego, you can eat a different kind of fish every day for 90 days and not eat the same fish twice.
Many of these species of fish are available for purchase every Saturday at the Port's Tuna Harbor Dockside Market, which Peter launched eight years ago.
"The first day it opened up, we had 1500 customers and three fishermen," Peter says. "It's fishermen selling their own catch. There's no wholesalers; there's no imported nothing. It's fishermen. The name of the boat, the name of the fishermen and the species, where he caught it, how he caught it, is right there."
Looking to the horizon, Peter reflects on his life by the sea.
"The best part is when you untie the boat and you head out to sea," he says. "Everything that's land-based falls away completely. Your mind is completely focused on catching the fish, and so all the problems, all the issues, everything going on in the world just disappears completely."
Sierra Landaiche — Environmental Engineer 
Sierra Landaiche is an environmental engineer with General Dynamics NASSCO at the Port of San Diego.
"We impact San Diego by creating thousands of jobs; it's a pretty large business here," Sierra says. "We impact the entire country by supporting the Navy, building and repairing their ships."
In addition to creating more than 3,500 local jobs and supporting the military, General Dynamics NASSCO also protects the San Diego region by remaining stewards of the environment.
"We minimize the impacts of waste generation, electricity usage, potential pollution," Sierra says. "Our job is to continually be improving our programs to reduce our impacts on the environment." 
These programs include collaborating with SANDAG's iCommute initiative program that offers funding for van pool programs to help employees carpool from far locations. 
"We also support biking, creating bike routes and bike lockers, and funding MTS passes," Sierra says. "Just all kinds of sustainable commute options, trying to get the word out there and help make it financially feasible for our employees."
If she were to leave Port of San Diego by water, Sierra knows just where she'd go.
"If I got to take any vessel anywhere, I would is grab my dad, and we would take the Matthew Turner, which is this 1800s style tall ship that was built by a nonprofit," she says. "My dad contributed to it, so it's one of his proudest achievements. We would go sail on the Matthew Turner out to Hawaii. It's going to be awesome."
Maya Tahilramani — Vice President and Controller
Maya Tahilramani works for San Diego Refrigerated Services at the Port of San Diego. 
San Diego Refrigerated Services helps keep things cool with six million cubic feet of frozen and refrigerated warehouse space at the Port's 10th Avenue Marine Terminal. That's roughly the equivalent of putting a lid on Petco Park and refrigerating the whole thing.
"At San Diego Refrigerated, we store food commodities," says Maya, whose duties include human resources, handling contracts, bookkeeping and more. "I enjoy going grocery shopping with my nieces, nephews, and showing them, 'Hey, that cargo that is on the shelves in grocery stores or out in the markets (may have) come through a facility that I work at." 
San Diego Refrigerated impacts life in San Diego County by creating local jobs.
"Jobs are created here through the commodities that ship through here, especially with over-the-road trucks," Maya says. "There are also some projects that we are pursuing now that require forklift drivers, clerks, things of that nature. And I know currently our local union is working with Pacific Maritime Association to get those jobs filled."
Having spent so much time in her frosty surroundings at San Diego Refrigerated, Maya knows how to stay warm in case of emergency.
"If I had to be stuck in a freezer with someone, I was thinking — most practical would've been Chewbacca," she says.
Jorge Hernandez — Commercial Truck Driver
Jorge Hernandez is a commercial truck driver at the Port of San Diego.
"I work with Discount Heavy Haul, also at Terminalift, here in San Diego," he says. "Anything that you could think of, we transport it."
When cargo ships arrive at the Port, Jorge helps haul their cargo away from the waterfront. 
"It's food and things necessary to continue with our lives, that everybody needs —clothes, food, fuel as well," he says. "If we don't have any of those things here in San Diego, or even the country, we can't carry on with our daily routines.
Jorge has also helped support the military by moving it precious cargo, including a military ship anchor he drove from Los Angeles to the Port of San Diego. He says he enjoys his work and the opportunities it provides.
"What I love most about my work is the traveling," he says. "I get to see new places and go all over the country."
Sophie Silvestri — Manager of Government Affairs and Business Development
The cargo industry keeps San Diego moving. More than two million tons of cargo arrive at Port of San Diego's two terminals each year. That includes the enormous number of cars offloaded at the National City Marine Terminal.
Pasha Automotive Services processes nearly half a million cars through Port of San Diego each year, bringing Lamborghinis, Porsches and many other auto brands to America's roads — and jobs to America's Finest City.
Sophie Silvestri is Manager of Government Affairs and Business Development for Pasha Automotive Services.
"One out of every 10 cars you see on U.S. roads probably came through this facility," Sophie says of Port of San Diego's National City Marine Terminal. "That car in your driveway wouldn't be there without this terminal."
Sophie notes the dramatic impact that the Port's cargo industry makes on San Diego.
"Over 90 percent of everything around you, at one point or another, was ocean-borne cargo," she says. "Just look at the clothes you're wearing, the car you're driving, the fruit you're eating, any items in your household — none of those things would be there without Maritime."
 
Anthony Palombit - Wharfinger
Meet Anthony Palombit, a wharfinger for the Port of San Diego's Maritime Operations Department. Anthony, whose duties include assisting with planning and overseeing what happens on the wharves at the Port's marine facilities, has been working as a wharfinger for the Port since February 2010.. He coordinates the use of the Port's cargo and cruise terminals and other facilities with tenants, cargo and cruise ship personnel, commercial fishing vessel operators, and stevedoring representatives. It is a mixture of outdoor work – preparing berths for vessel arrivals, coordinating rail and vehicle traffic on the terminals – and office work such as billing, inputting customer data, and calculating port tariff charges. 
"I grew up on the Great Lakes in Michigan and being on the water is something I've enjoyed my entire life," he said. "I've worked aboard various types of vessels, and was employed as a professional licensed captain for more than thirty years." 
Being waterside and interacting with the various vessels is very important to Anthony. Assisting with the movement of ships is a large part of his job. He coordinates with the vessel to ensure it berths at the proper location, oversees and assists with its safe arrival, and logs or records details of its berthing.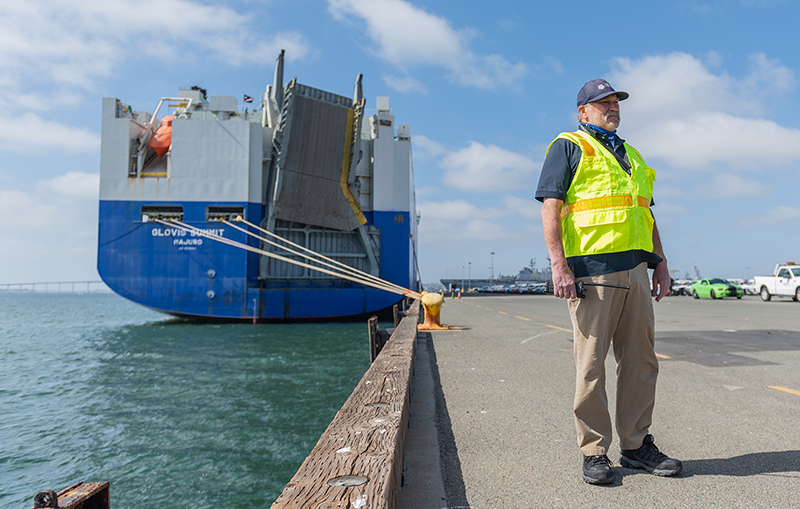 Another big part of a wharfinger's job is maintaining safety and security on the terminals. Wharfingers keep a close security watch on the terminal and coordinate with terminal security officials on multiple security rounds throughout their shifts.  
Anthony's main assignments are the Port's B Street Cruise Ship Terminal and the National City Marine Terminal. Since there are currently no active cruise operations due to the pandemic, most of his time is spent at the National City Marine Terminal, where Pasha Automotive Services processes nearly 400,000 imported vehicles a year. There can be up to three of the huge car-carrying vessels at one time at the terminal, with thousands of vehicles being offloaded daily. 
The National City Marine Terminal is sometimes used to help load on or load out military equipment, and Anthony is proud of the Port's status as a Strategic Port. This important designation means that the Port assists the military with their operations, preparing space for them to conduct their operations, often at less than 48 hours notice. 
The Port of San Diego salutes Anthony and thanks him and his fellow wharfingers and Maritime employees for all they do for the Port and our region. Happy Maritime Month! 
Renee Rose – Ship's Agent 
Renee Rose is a vessel operations coordinator for Norton Lily International, a ship's agency company that provides a wide range of services to a variety of vessels. She has been working with them since 2018, serving as a ship's agent at the Port of San Diego's two cargo terminals and at Naval Base San Diego. 
Renee's work as a ship's agent begins about three weeks before a vessel arrives in port with coordinating port services and logistics for the vessel's crew. This can range from booking the pilot and tug vessels, United States Coast Guard exams, fuel and stores refills, doctor's visits, and transportation to San Diego Airport for crew changes. If a vessel needs repairs while in port, she takes care of that too. Rene works hard to ensure that whatever a vessel's crew needs is there for them. 
When a foreign cargo ship arrives in port, Renee is there to greet them. This is not an 8 to 5 job, and sometimes Renee is out at the berth at three in the morning. She is the vessel's first point of contact, going onboard as soon as it docks to retrieve all the necessary paperwork for Customs, Immigration and Agricultural officials to view. She then coordinates with the vessel crew to have them disembark the vessel to present their passports and visas to Customs and Immigration officials.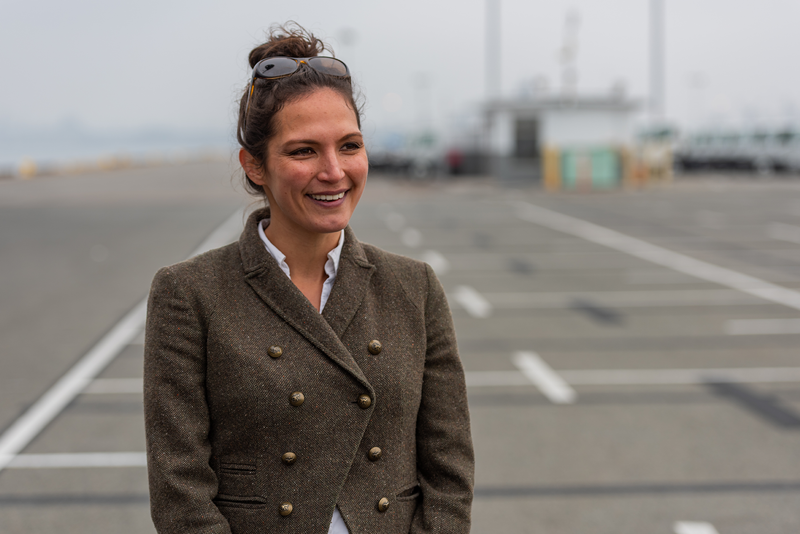 Renee also provides her ship's agent services to foreign Navy visiting San Diego. The Canadian Navy is a frequent visitor to San Diego Bay, and Renee collaborates with them to provide necessary services.  
Her favorite part of the job is meeting so many different people from all over the globe. Renee brings a human element to communicating with the crew and loves learning about their different cultures. And when a vessel returns to the Port of San Diego, she is thrilled to have the opportunity to see the same captain and crew.  
One of the hardest elements of her job is trying to find the right vendor to perform services for a vessel at a moment's notice. Also, at the onset of the pandemic, she took on more responsibilities. More paperwork was needed  for crew flying out and COVID-19 tests had to be scheduled.  
Prior to her career with Norton Lily, Renee worked at jobs in marketing, economic development and trade. She worked for the Port of San Diego in 2011-2012 and earlier worked for the Port of Virginia. 
The Port of San Diego salutes Renee and all the hardworking men and women of the Working Waterfront. Thank you for all you do and happy Maritime Month! 
Jesus Moreno - Truck Driver
Meet Jesus Moreno, a truck driver for National Cargo Logistics. He has been a truck driver for 15 years servicing the maritime industry. Driving up and down the California coast, Jesus picks up cargo at ports or large shipments of items from companies and gets them to their destinations. He has done a lot of work at the Port of San Diego because National Cargo Logistics works with the stevedores and longshore workers at the Port's Tenth Avenue Marine Terminal. Prior to being a truck driver, he was a dispatcher for a trucking company. 
"Truck driving really appealed to me," he said. "To me, being outside is much more enjoyable than working in an office, so I trained and got my license to drive commercial semi-trailer trucks." 
Jesus' work keeps him on the road a lot, sometimes clocking in more than 400 miles a day. He can be at the Ports of Los Angeles/Long Beach one day and at the Port of San Diego the next day. His typical cargo from the Port of San Diego includes steel coils, which are sheets of metal that have been flattened and rolled. This type of cargo is typically used in shipbuilding, used for power stations, roof panels and various other construction projects. Each steel coil weighs 35,000 pounds, so he usually can only transport one at a time. The Port recently received a shipment of 300 steel coils from Asia and Jesus had to transport one to Mira Loma, California, which is about 120 miles from San Diego.  
Steel coils are his favorite type of cargo to load because it only takes about 20 minutes to load one onto the bed of his truck and then he is off to his destination. When he works out of the Ports of Los Angeles/Long Beach, it usually involves transporting containers, which are more complicated. The truck drivers must use a chassis to move the container as well as a crane to load it.  
Other cargo Jesus regularly handles at the Port's Tenth Avenue Marine Terminal includes other construction equipment such as "H" beams and steel pipes. The cargo is large and is not transported in containers, so it requires a lot of laydown area on the terminal.   
"Safety is the number one priority on the terminal while working with such large project cargo," said Jesus. "The truck drivers, stevedores, and longshore workers all coordinate closely to ensure that cargo is moved safely and that all workers take safety seriously." 
Jesus, who lives in San Diego with his wife and three children, enjoys driving but misses his family while he is on the road. Thoughts of his family accompany him on his important journeys, and he loves when he returns and gets to see their smiling faces. 
The Port of San Diego salutes Jesus and thanks him and all the hardworking men and women of the Working Waterfront for all they do for the Port and the region. 
Arron Paul - Crane Operator
Arron Paul is a crane operator, instructor and executive officer with 23 years of experience operating cranes on the water. He has worked for International Longshore & Warehouse Union (ILWU), Local 29, located in National City, since 2016. He operates the Port of San Diego's Gottwald crane, which can be moved to various locations at the Tenth Avenue Marine Terminal, and operates vessel cranes, such as the ones used on the Dole vessels that arrive weekly to the Port of San Diego. At National City Marine Terminal, Arron teaches others how to operate cranes by first instructing them on a simulator. The simulator was provided by the Pacific Maritime Association and is a 10-screen system with realistic controls and simulations. It helps establish the muscle memory needed before using an actual crane.  
"During the first half of the pandemic, the COVID-19 virus and the unknown world made for some trying times with keeping labor safe, and still keeping the cargo flowing," he said. "As we began to open back up, I found myself embarking on a new path as a crane instructor. I am fine-tuning this skill set and glad to have the opportunity to share my knowledge and experience with other prospective crane operators." 
Arron's career began in 1998 as a longshoreman at the Port of Los Angeles/Long Beach with ILWU Local 13 where he completed his Casual (which is often referred to as grunt years), Class B probation and then his Class A book. Back then, a seasoned foreman pulled him to the side and gave him this advice, "Keep your eyes and ears open, kid. Learn what to do from the best and what not to do from the worst." Arron feels he was lucky enough to learn from some of the finest in their fields.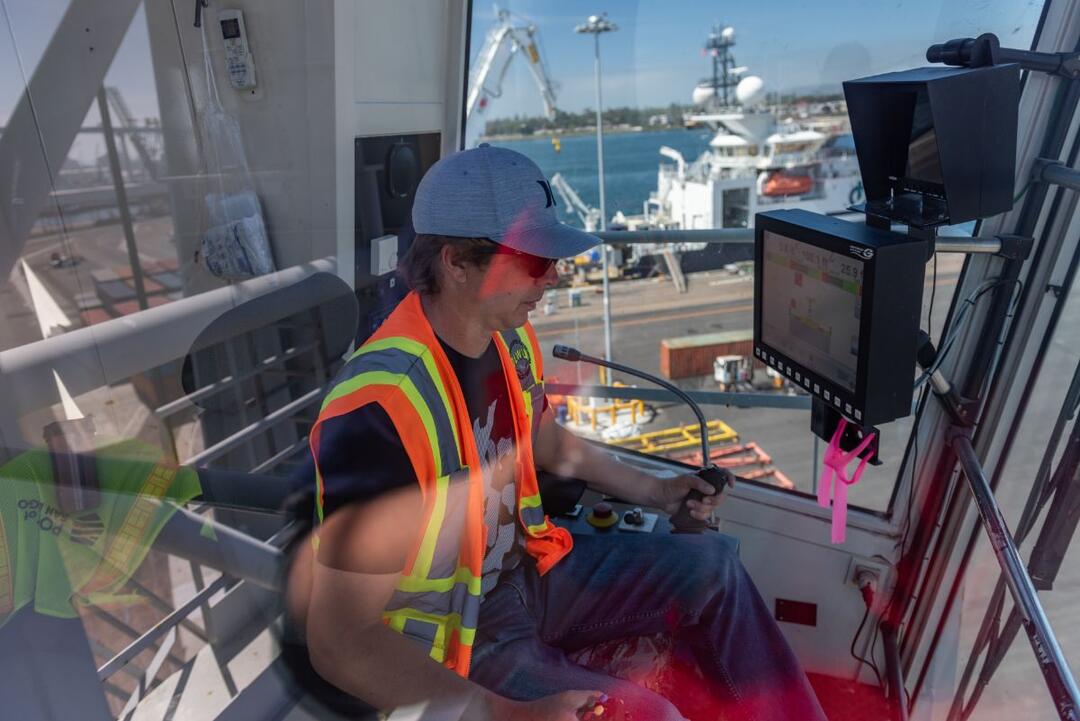 During the Great Recession of 2008, work at the Port of Los Angeles/Long Beach was slow, so Arron traveled to various ports on the West Coast and worked everywhere from the Port of San Diego to ports in the Pacific Northwest. One of his highlights was working on logs at the Port of Everett in Washington. The longshoremen actually balanced on logs in the water, pushing other logs into place with a pole so that the cranes could pick them out of the water. He said it was some of the hardest, exhausting and most dangerous work he has ever experienced.
According to Arron, operating a crane is one of the most difficult yet thrilling jobs in the world and he considers it a job that needs to be respected and nurtured. When he steps into the cab of the crane, he takes a moment to enjoy the view of beautiful San Diego Bay, but then gives his full attention to the job at hand. Thoughts rush through his mind such as, is the equipment responding properly? Is the ship rolling in an unusual manner? Is the labor standing where they are in sight?  
He said, "The list is endless, but a good crane operator is calculating the big picture at all times. It's truly bananas! To those who helped me get where I am, to the family I call ILWU, I give you the biggest thank you!" 
The Port of San Diego salutes Arron, his fellow crane operators and longshore workers, the marine terminal supervisors, and operations team, and all the hardworking men and women in the maritime industry. Happy Maritime Month!   
Frances Sawyer - Stevedore 
May is Maritime Month at the Port of San Diego and we are saluting the dedicated men and women of the Working Waterfront. Meet Frances Sawyer, a terminal superintendent for SSA Pacific, a subsidiary of SSA Marine and a part of the CARRIX family of companies, a stevedoring company. A stevedoring company plans, coordinates, manages and oversees the operations involved with loading and unloading cargo ships. She has been working for SSA for 17 years.  
Frances' job has many facets to it. She supervises the longshore workers handling cargo from vessels and loading it onto trucks or railcars.  
Frances and her coworkers are the go-to team for every aspect of cargo movement on the Port's Tenth Avenue Marine Terminal. Her job starts long before a vessel arrives in port. When a cargo vessel is in another country and weeks away from when it's due to arrive in San Diego, Frances works with the shipping company, freight forwarders and cargo owners to find out the type of cargo arriving and the amount. She and the SSA Pacific team then coordinate with Port maritime operations staff to figure out where the vessel will berth and where the cargo will be laid out. She also works with the International Longshore & Warehouse Union to hire labor who will handle the cargo.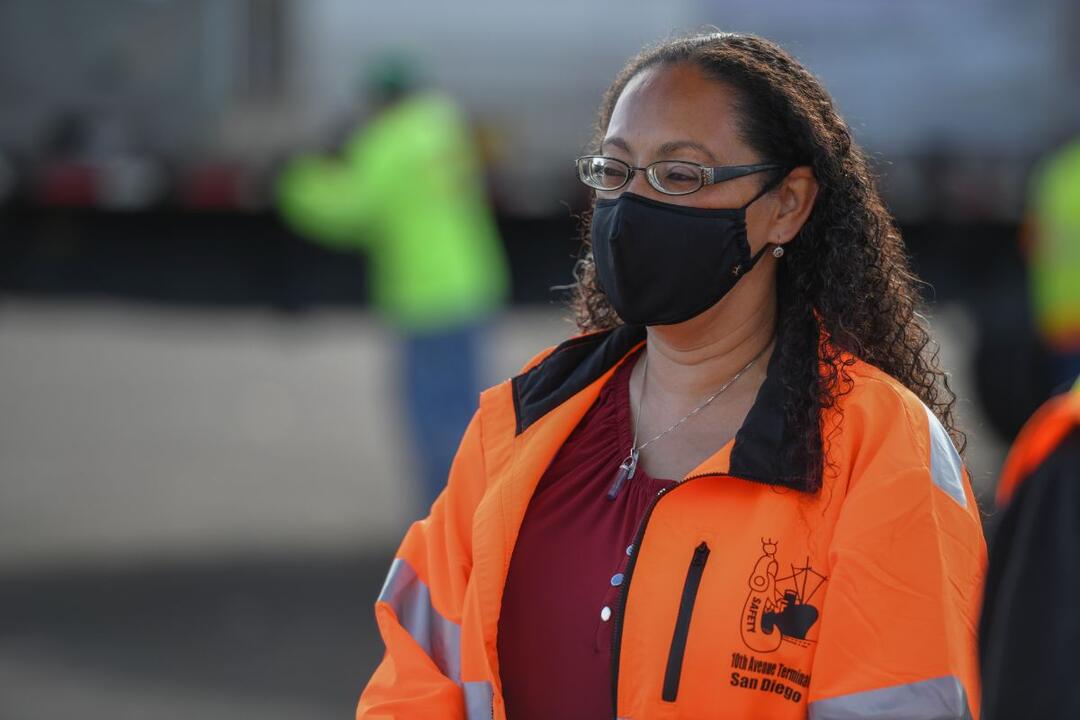 "The best thing about working on the waterfront is the excitement of the job," Frances said. "I wear many hats – from administrative to environmental to project coordination. There are also labor relations and supervising longshore labor. Every day brings something new." 
Frances' love for working outside near the water began years ago when she worked at Chesapeake West Terminals. She moved back to San Diego in 1996 and worked for IMC Chemicals, which was located at the Tenth Avenue Marine Terminal. She began in the office, then coordinated the movement of soda ash in railcars from Trona, CA into the ports of San Diego and Long Beach.  
The dynamic aspects involved in Frances' job keep her extremely busy and the days pass by quickly. She has a passion for being on the waterfront and appreciates the beauty of her view of San Diego Bay.  
A typical day will start in her office at the Port's Tenth Avenue Marine Terminal. There she fields phone calls and waits for the day's workers to arrive. Next, she heads outside where the cargo is laid out for the lining up of the laborers. There could be more than one vessel in port and Frances must coordinate with the labor on where the cargo handling will occur. It's a job that takes extreme organizational skills and communication skills.  
"Vessel schedules are moving targets," she said. "No two jobs are the same. You've got be flexible. You've got to be ready for anything that is coming your way." 
The Port of San Diego thanks Frances, her coworkers, the longshore workers (typically referred to as stevedores), the Port's Maritime Operations staff and all who work so hard to keep the Port of San Diego moving. Happy Maritime Month! 
Adam Deaton - Senior Trade Account Representative
Meet Adam Deaton, a senior trade account representative in the Maritime Department. Adam is the Port's cruise operations liaison and works closely with the cruise lines to ensure they receive the service they require to have a successful cruise into or out of the Port of San Diego. His role has several components including identifying and updating infrastructure needs, proactively identifying challenges for upcoming seasons, and coordinating solutions between the cruise lines, Maritime Operations, other Port departments, and other cruise ports.  
Adam has been in this position for ten years. Prior to that, he was a management analyst working for both the Port's Marketing and Engineering Departments, primarily working on the design and construction of the Port Pavilion on Broadway Pier, which serves as a cruise ship terminal.  
"The industry is constantly changing and it's a challenge to deliver an excellent cruise experience, but I feel the Port does a laudable job to meet that challenge," Adam said. "The Port strives to not just find a balance between environment, economic impact, and Port financial health, but works to maximize all three for the health of the region."  
The Board of Port Commissioners recently approved funding to install infrastructure for additional shore power at its B Street Cruise Ship Terminal and Broadway Pier Terminal. Currently there is only equipment to provide shore power for one cruise vessel at a time. Shore power allows the vessel to plug into clean electricity while in port, removing the need to use a vessel's diesel power while idling. The additional shore power system is anticipated to be installed by September 2022 and will help improve the air quality around the terminals. Adam worked with several Port departments and the community to push this project through.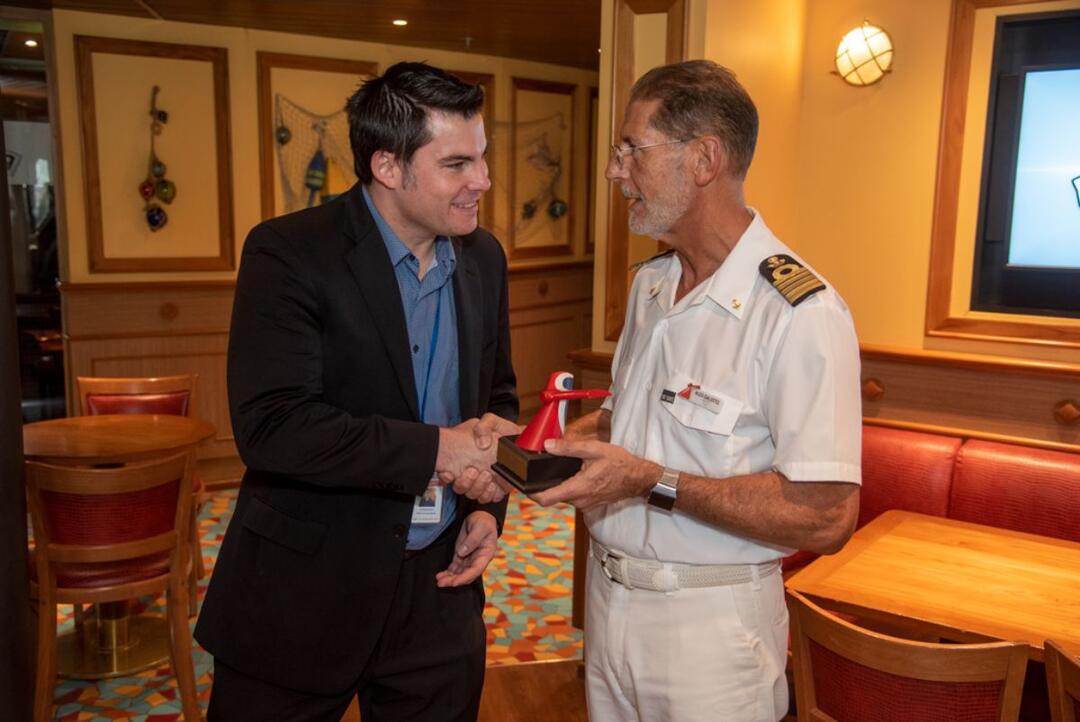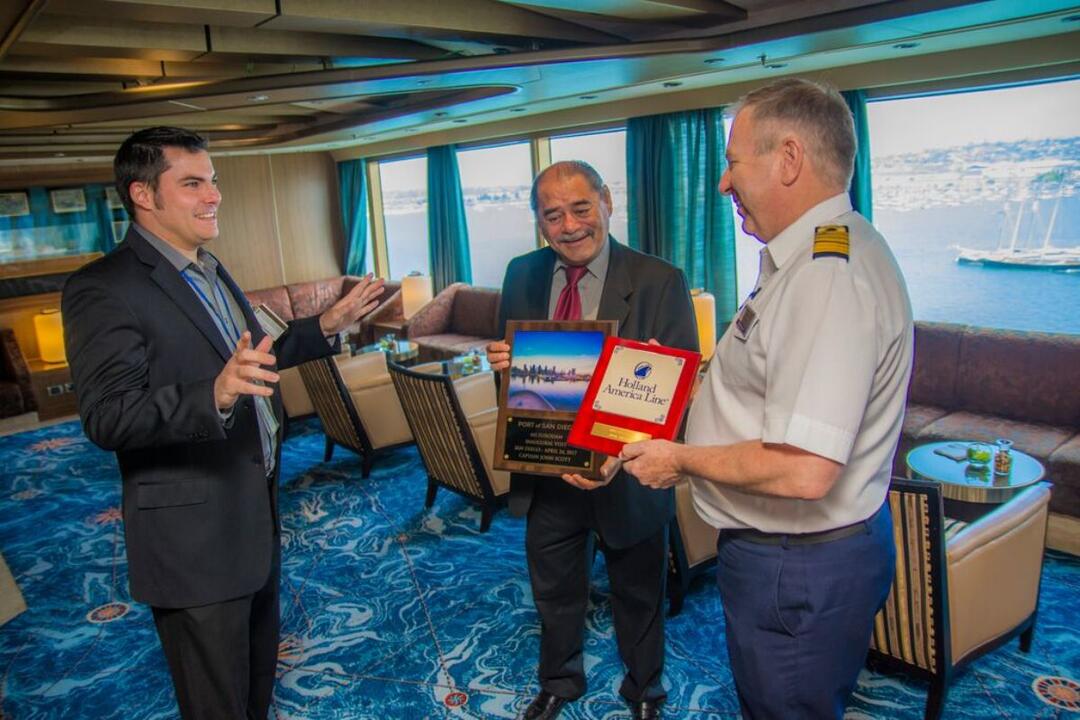 Adam's favorite part of the job is finding collaborative solutions to industry, infrastructure and operational challenges. His least favorite is uncontrollable global forces, such as the current pandemic, which can take a booming industry and turn it on its head within a very short period. 
His favorite memory working with the cruise lines was the community push to bring Disney Cruise Line to San Diego. To him, it demonstrated the power that San Diego and the Port community had to make things happen. There was a lot of competition among the West Coast ports to acquire Disney, but ultimately, Disney found San Diego's beauty and the excellent service provided by the Port too hard to resist. 
Adam was also deeply touched by the many thank you letters the Port received from passengers who had been stranded at sea due to the COVID-19 crisis. Many ports were shut down, leaving thousands of passengers with no means to get home. The Port worked with cruise lines, the Center for Disease Control and Prevention, Customs and Border Protection, United States Coast Guard, San Diego County Health and Human Services, and many other local and state partners to assist with this difficult situation.  
As for the return of the cruise business, Adam confidently says, "It's coming! Cruise will be back before we know it. The industry is saying as soon as mid-July in some parts of the country. I see it coming back to San Diego this fall." 
The Port of San Diego salutes Adam and all the hard-working men and women on the Working Waterfront. Happy Maritime Month.
David Haworth - Commercial Fisherman
David Haworth started fishing at 9 years old with his father and has since made it his career. Catching tuna and a variety of fish for decades now, David plays a role in the robust history and present-day commercial fishing industry, an important component of our regional maritime industry, with many fishermen working in the industry for generations. To David, being a commercial fisherman means being adaptable to any condition. 
"You never know what the day brings and so many factors can lead to a productive day. Throughout the years, you take in the weather conditions, vessel breakdowns, among other things and you make the changes happen to complete the work. When I am out on the water, the weather is beautiful and I see a school of fish biting in the water, it's the best feeling!"
Tuna Harbor and Driscoll's Wharf, two of four commercial fisheries in the San Diego region, support the legacy and potential of the commercial fishing industry and its workers. With a total of five boats operating offshore San Diego, David and his crew of over 35 employees catch an array of fish and love the afternoons when they come in to unload over a thousand pounds of tuna at Chesapeake Fish Company to a crowd of people watching. David has a passion for educating locals and tourists on the commercial fishing process and the types of fish caught in local waters. Catching lobster, swordfish, and various varieties of tuna and more, his catches are purchased by wholesalers across the country, and even worldwide. Thanks to approximately 70 local commercial fishing businesses, including David and his crew, San Diegans and tourists can purchase and enjoy locally caught fish at a reasonable rate. Meet David and many other commercial fishermen at the Tuna Harbor Dockside Market every Saturday from 8 a.m. - 1 p.m.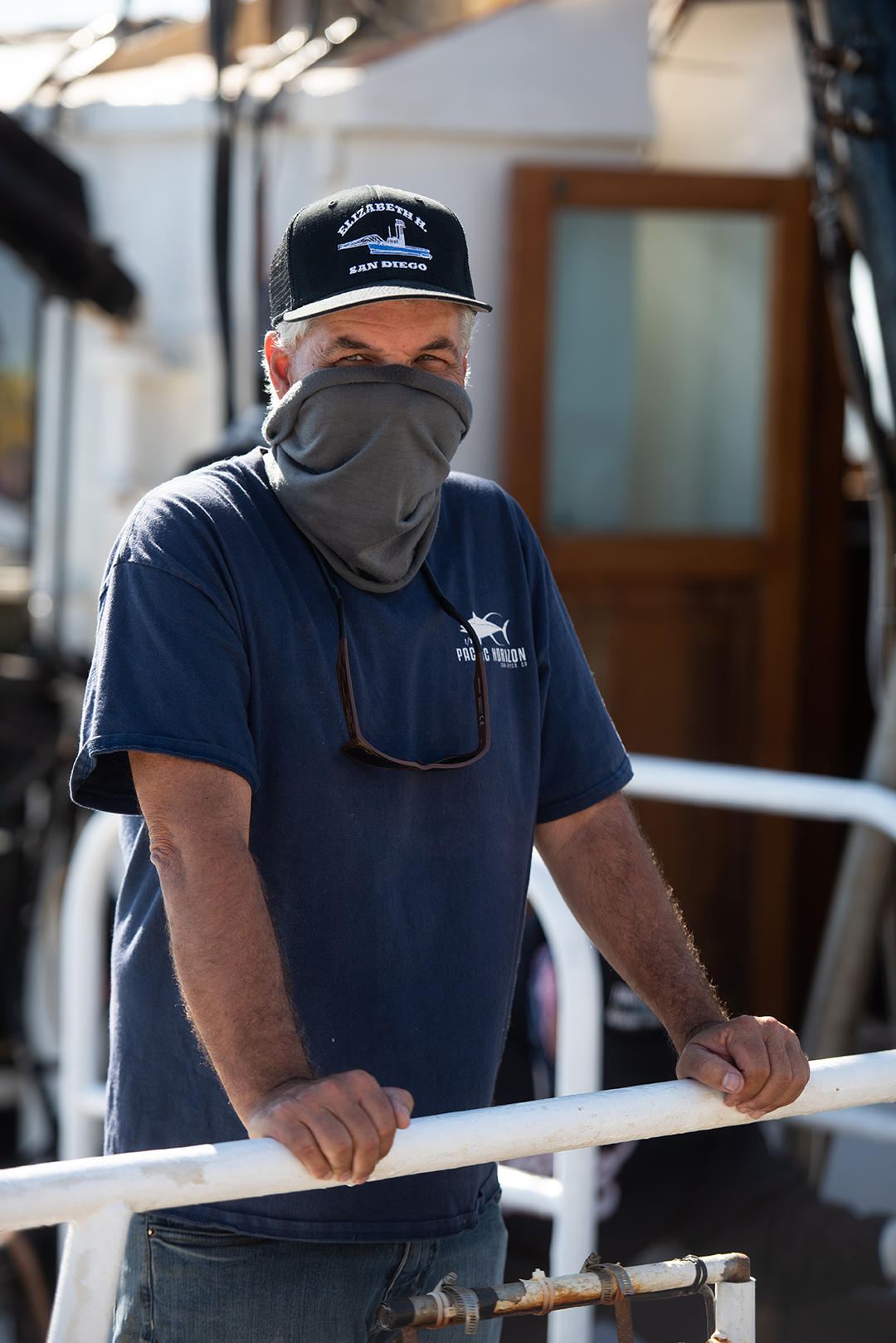 Frank Ursitti - President of United Sportfishers of San Diego Inc.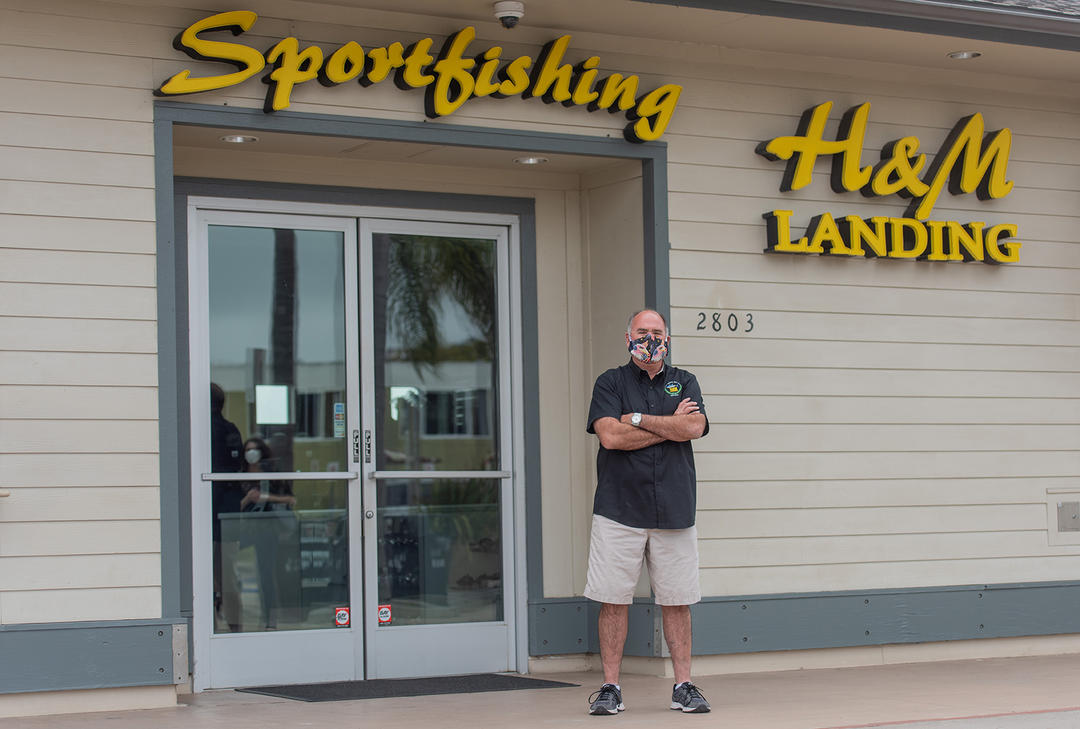 Frank Ursitti is president of United Sportfishers of San Diego Inc. and operator of H&M Landing, the West Coast's oldest, most experienced and diversified sportfishing company. Frank earned his captain's license in 1980 and after operating vessels for other owners, purchased his first charter vessel in 1990 and joined the San Diego fleet. After decades of growing his charter business, he joined H&M, one of three popular San Diego sportfishing businesses. A San Diego landmark since 1935, H&M currently has 30 vessels, all owned by small business owners, with daily operations that contribute to San Diego's tourism. H&M, along with Point Loma and Fisherman's Landing, proudly welcome over 400,00 visitors to San Diego annually to enjoy exciting offshore and eco-tourism experiences. Adventures include a diverse schedule of daily departures ranging from half-day trips and luxury long range expeditions, to natural history trips to view wildlife in a natural setting. Frank loves to greet regular, experienced  customers, and also finds it rewarding to meet those new to the sport. He also revels in sharing his background and perspectives to enhance everyone's experience. 
Frank's favorite part of his job is selling FUN to residents and tourists – he loves seeing the anticipation and excitement that fills the air when new and experienced anglers are waiting to head out on an adventure. The many tourists and anglers that come to San Diego to enjoy these recreational activities provide an overall annual economic impact of approximately $250 million for the region. 
Meet The People of the Working Waterfront