May is Maritime Month at the Port of San Diego. It's our region's unique celebration of National Maritime Day, which is May 22. National Maritime Day pays special tribute to the merchant marines and to the benefits that the maritime industry provides to the country.
This year, we pay special tribute to the men and women of our Working Waterfront who continue to work hard to ensure the safe and timely delivery of essential goods, providing crucial services in these difficult times. They include our own maritime operations employees, and employees of our maritime industrial tenants, along with our longshoremen and women, stevedores, San Diego Bay pilots, commercial and sportfishermen and many more.
Russell Keltner, Wharfinger
Russell Keltner, a wharfinger in the Port of San Diego's maritime department for five years, is a 25-year maritime industry veteran. You could say working on the water is in Russell's blood. A native San Diegan and of Portuguese descent, he grew up with relatives and neighbors who worked in the tuna fishing industry. As a teenager, Russell worked for a local sportfishing fleet on San Diego Bay, and later worked on a commercial tuna fishing vessel based in American Samoa. Prior to working at the Port, Russell spent 12 years of his oceangoing career with Oceaneering International, Inc., a subsea engineering and applied technology company.
 
"Most of my experience and expertise as a mariner was gained through my position as a vessel captain for Oceaneering International," said Russell. "However, it was always a dream of mine to get a maritime job in my hometown. Being a wharfinger is the perfect mix of being outside and having the opportunity to connect with our cruise and cargo customers."
 
Russell contributes to the Port's Working Waterfront by fulfilling his duties as a wharfinger and ensuring that maritime operations run smoothly and safely. The Port of San Diego salutes Russell, his fellow wharfingers, the marine terminal supervisors on the operations team, and all the hardworking men and women in the maritime industry.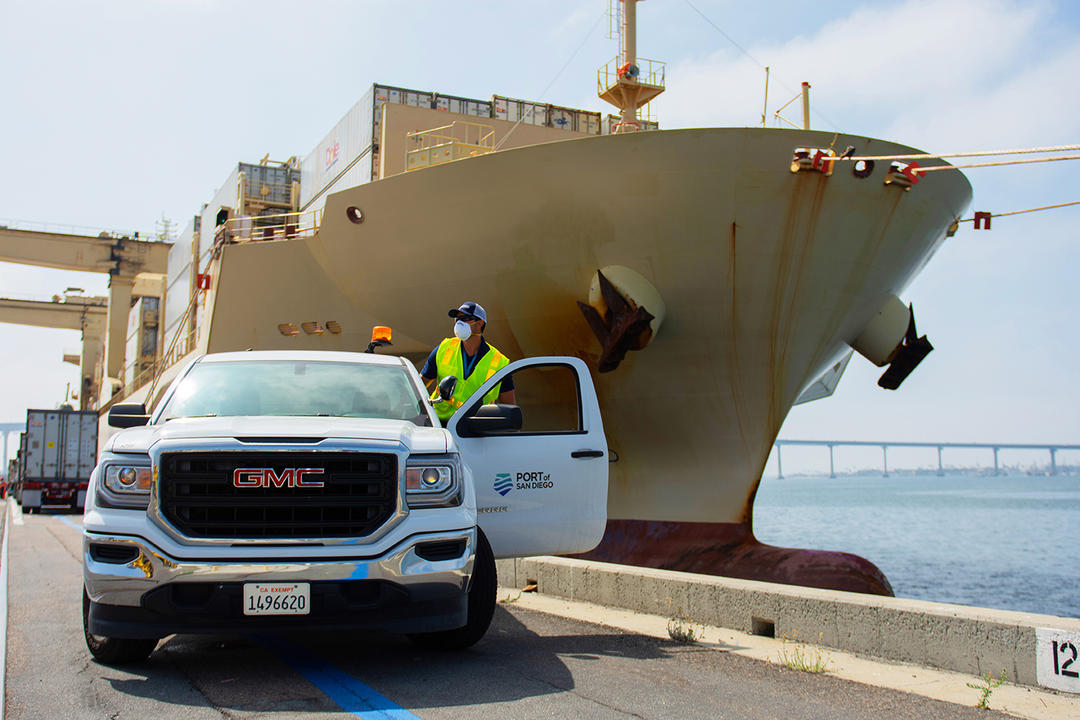 Marcella Calderon, Class A & Union Officer, ILWU Local 29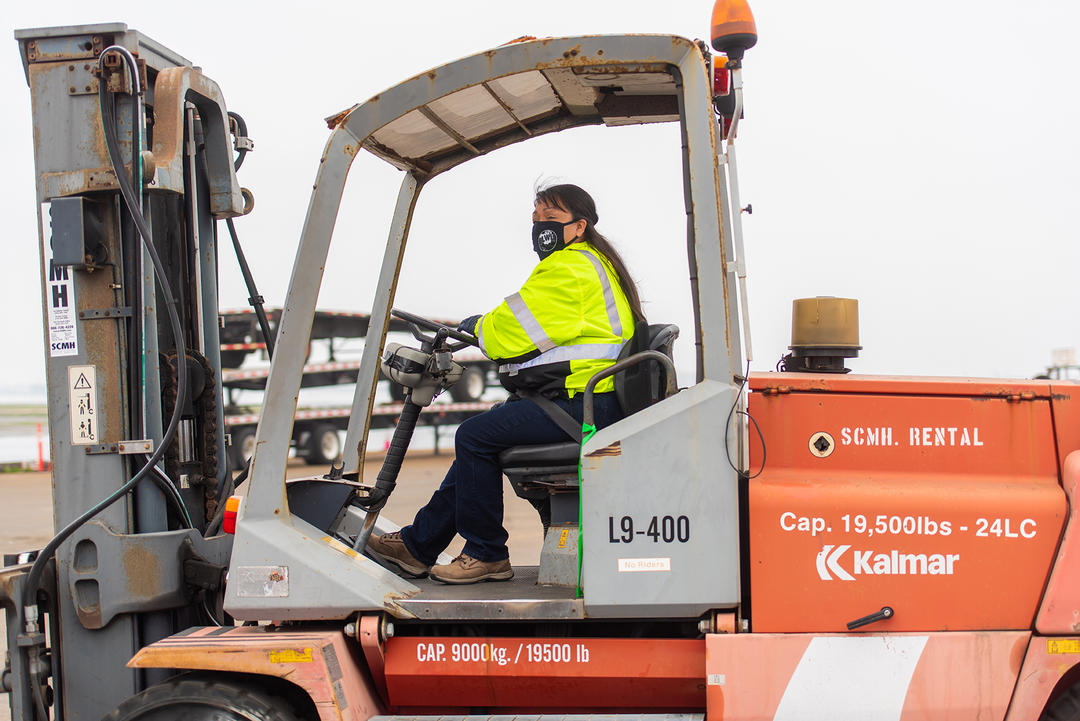 Marcella Calderon has been working on the San Diego Bay waterfront for 19 years. As a Class A longshore worker, the highest level of seniority in the International Longshore Workers Union (ILWU), and a Union Officer with ILWU Local 29 in San Diego, her job is unique and very important to the maritime industry. 
Longshore workers like Marcella keep goods moving in and out of the Port of San Diego's two maritime terminals – the Tenth Avenue Marine Terminal and the National City Marine Terminal. Goods include the roughly 3.9 billion bananas that arrive annually through Dole Fresh Fruit Company, to the approximately 450,000 imported vehicles processed each year through Pasha Automotive Services. Longshore workers also load and unload passenger luggage, food and supplies on and off cruise ships at the Port's B Street Pier and Broadway Pier cruise ship terminals. While the work is very physical and challenging, moving cargo and goods quickly and safely is the goal, and Marcella is always up for the challenge.
"Although my job as a longshore worker is very demanding, it has so much to offer for a hard-working individual," said Marcella. "I love being on the water and seeing the amazing views and I am proud to work alongside my union sisters and brothers to keep the Working Waterfront moving."
Operating heavy equipment is a large part of the job – Marcella also operates heavy equipment such as pallet jacks, forklifts, semi-tractors and heavy lift equipment. And, her workday is always different. Each day, she can pick whichever job is open and available. Marcella stresses that production is key and that longshore workers must give it their all to ensure that the cargo and cruise customers are happy and that they'll return with more business. Although production is so important, safety is equally as important, and Marcella and her fellow workers are careful to watch out for each other.
"An injury to one is an injury to all," she said.
The Port of San Diego thanks Marcella and all her union sisters and brothers. They are an integral component to our region's economy and valued members of the Port community.
Captain Lyle Donovan, San Diego Bay Pilot
Captain Lyle Donovan has been a San Diego Bay pilot since 2004 and is a 1981 graduate of the California Maritime Academy. Captain Donovan, along with Captains Bill Bartsch and Mark Jennings, make up the San Diego Bay Pilots Association, which is authorized by the Board of Port Commissioners to provide piloting services to vessels entering, leaving or shifting within the Port of San Diego. Captain Lou Castagnola, who primarily works as a United States Navy vessel pilot, also provides relief pilot services for the San Diego Bay Pilots Association.  
What exactly does it mean to provide piloting services? A typical day for Captain Donovan and his colleagues might include assisting a car-carrying vessel inbound for the National City Marine Terminal at 4:30 a.m. along with a cruise ship scheduled to berth at the B Street Cruise Ship Terminal at 5 a.m. The pilot boat operator gets up early and drives to the National City Marine Terminal to pick up one pilot at 3:30 a.m., then swings by the B Street Pier to pick up another pilot.
They all drive to the tip of Shelter Island, board the pilot boat and proceed out towards the Sea Buoy, which is a steel marker located a couple miles off the tip of Point Loma that assists boaters with navigating the channel. The pilots meet the ships at the Sea Buoy and board their respective vessels by climbing a ladder rigged on the side of the ship. They then proceed to the ship's navigation bridge and guide the ship through the buoyed channel to where it is to be docked.
 
In guiding the car-carrying vessels, which are approximately 650-feet long, the pilot contacts the tugboat captains a couple of miles prior to berthing and works with them to assist in safely docking the vessel. They also contact a Port wharfinger, or marine terminal worker, to spot the ship alongside the dock. 
Cruise ships are equipped with bow and stern thrusters – devices built into a ship to make it more maneuverable. Because of this, they don't need the services of a tugboat to assist with docking. The pilot works together with the cruise ship's officers to guide the ship alongside the dock and a Port wharfinger assists with spotting coordination. 
Captain Donovan is extremely gratified to work as a harbor pilot and says one of his favorite parts of the job is that it is so unique.
"The job of a pilot is unique because there are so many different variables. A ship's movement can be different, their characteristics are always different, weather conditions can change hour to hour, bay traffic is in constant flux and sometimes it is difficult to communicate when there are many international workers on the ships," he said. "I am honored to work with so many people that keep commerce flowing in and out of San Diego Bay."
Captain Donovan is extremely thankful to boat operators, shipyard personnel (from dockmasters to skiff operators), the Port's maritime team, ship agents, Navy vessel pilots, members of the Harbor Safety Committee, and all others that help make his job so rewarding.
The Port of San Diego salutes you, Captain Donovan, and thanks you for the job you and your fellow pilots do to keep the Port of San Diego cruise and cargo operations running safely and efficiently. Happy Maritime Month!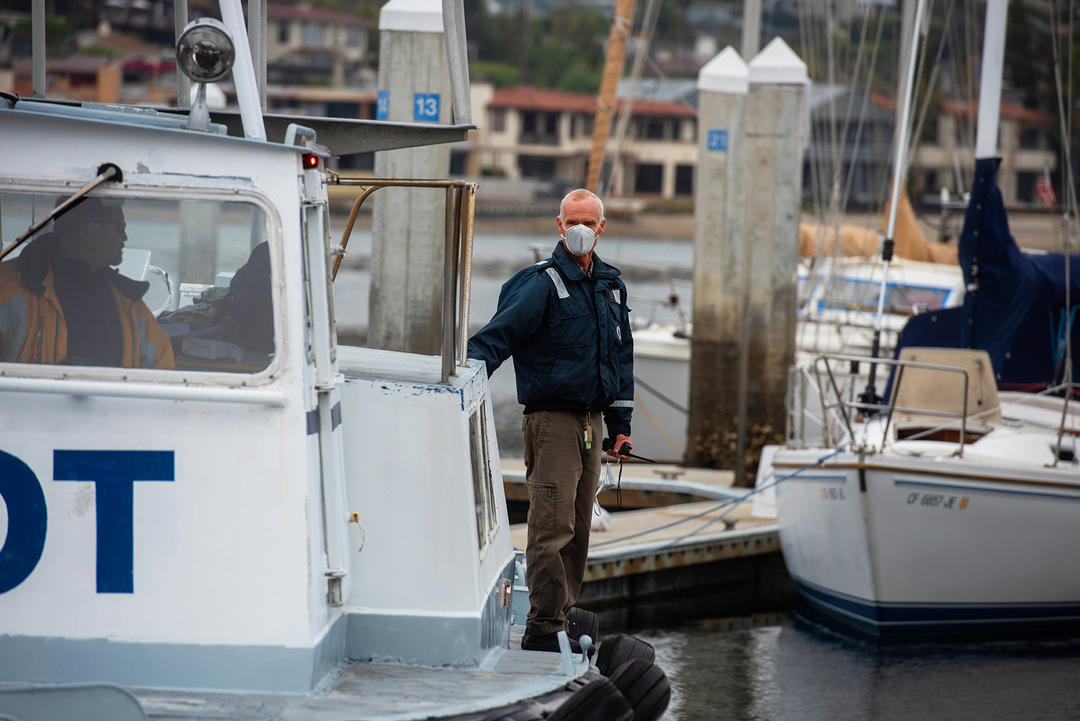 David Haworth, Commercial Fisherman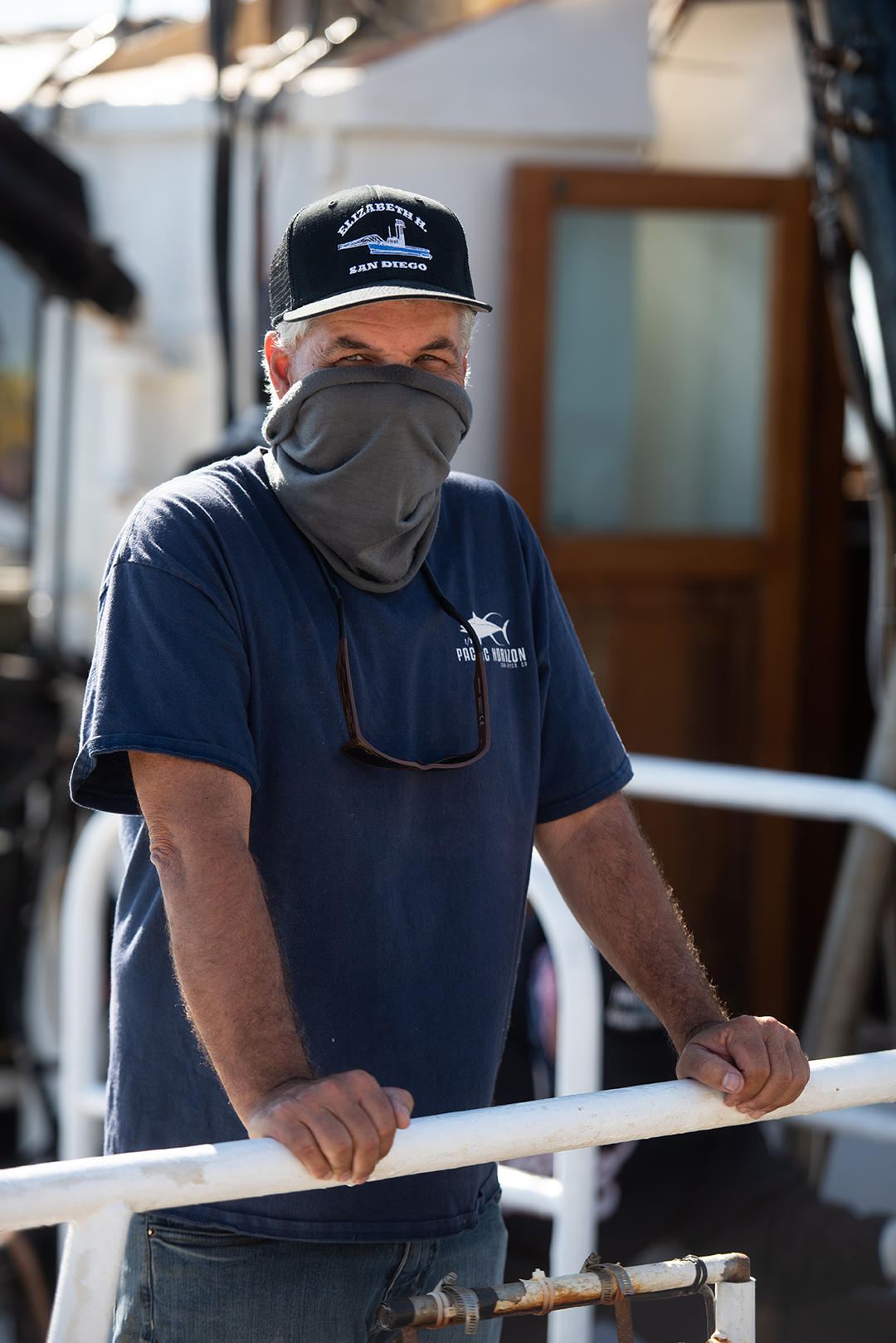 David Haworth started fishing at 9 years old with his father and has since made it his career. Catching tuna and a variety of fish for decades now, David plays a role in the robust history and present-day commercial fishing industry, an important component of our regional maritime industry, with many fishermen working in the industry for generations. To David, being a commercial fisherman means being adaptable to any condition. 
"You never know what the day brings and so many factors can lead to a productive day. Throughout the years, you take in the weather conditions, vessel breakdowns, among other things and you make the changes happen to complete the work. When I am out on the water, the weather is beautiful and I see a school of fish biting in the water, it's the best feeling!"
Tuna Harbor and Driscoll's Wharf, two of four commercial fisheries in the San Diego region, support the legacy and potential of the commercial fishing industry and its workers. With a total of five boats operating offshore San Diego, David and his crew of over 35 employees catch an array of fish and love the afternoons when they come in to unload over a thousand pounds of tuna at Chesapeake Fish Company to a crowd of people watching. David has a passion for educating locals and tourists on the commercial fishing process and the types of fish caught in local waters. Catching lobster, swordfish, and various varieties of tuna and more, his catches are purchased by wholesalers across the country, and even worldwide. Thanks to approximately 70 local commercial fishing businesses, including David and his crew, San Diegans and tourists can purchase and enjoy locally caught fish at a reasonable rate. Meet David and many other commercial fishermen at the Tuna Harbor Dockside Market every Saturday from 8 a.m. - 1 p.m. 
Frank Ursitti, President of United Sportfishers of San Diego Inc.
Frank Ursitti is president of United Sportfishers of San Diego Inc. and operator of H&M Landing, the West Coast's oldest, most experienced and diversified sportfishing company. Frank earned his captain's license in 1980 and after operating vessels for other owners, purchased his first charter vessel in 1990 and joined the San Diego fleet. After decades of growing his charter business, he joined H&M, one of three popular San Diego sportfishing businesses. A San Diego landmark since 1935, H&M currently has 30 vessels, all owned by small business owners, with daily operations that contribute to San Diego's tourism. H&M, along with Point Loma and Fisherman's Landing, proudly welcome over 400,00 visitors to San Diego annually to enjoy exciting offshore and eco-tourism experiences. Adventures include a diverse schedule of daily departures ranging from half-day trips and luxury long range expeditions, to natural history trips to view wildlife in a natural setting. Frank loves to greet regular, experienced  customers, and also finds it rewarding to meet those new to the sport. He also revels in sharing his background and perspectives to enhance everyone's experience. 
Frank's favorite part of his job is selling FUN to residents and tourists – he loves seeing the anticipation and excitement that fills the air when new and experienced anglers are waiting to head out on an adventure. The many tourists and anglers that come to San Diego to enjoy these recreational activities provide an overall annual economic impact of approximately $250 million for the region.