Know Your Drains!
As Storm Drayne's most avid fans, The Drayniacs want you to know your drains! Your home's sinks, showers and toilets drain to the sewer system. This water goes to the wastewater treatment plant where it is treated to remove harmful pollutants. Storm drains on the other hand, lead directly to your bays and ocean UNTREATED and have nothing to stop the flow of unsafe chemicals, debris, and pollution from getting into our coveted #SanDiegoBay! To be a true Storm Drayne fan, you have to know the difference between storm drains and common household and business drains, and what belongs in each. Keep our fishies safe by checking your surroundings for trash, debris and chemicals this rainy season!
Be sure to check out Storm Drayne's hits -  Storm Drayne - Unplugged, These Leaves - Clear the Way for a Rainy Day feat. Storm Drayne, Clean This Oil My Man and Rain is Comin'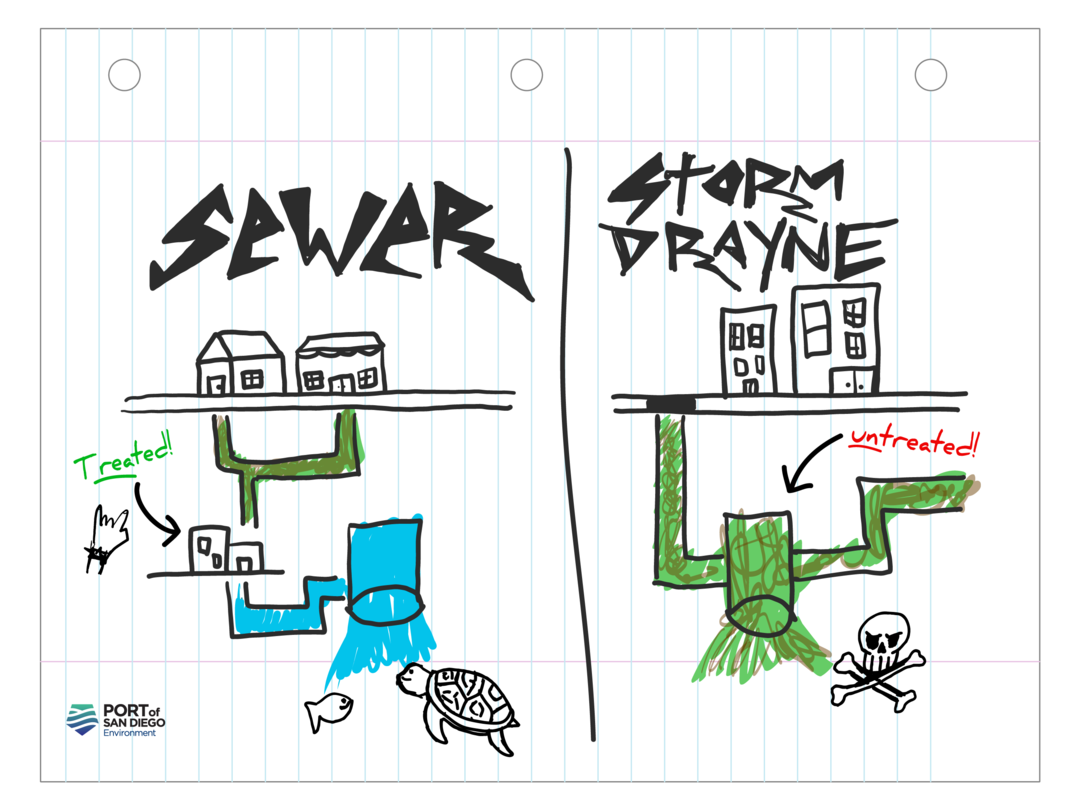 All drains are not created equal! There are two different types:
Sewer drains - Household wastewater from sinks, showers and toilets drains into sewer pipes, where it travels to wastewater treatment plants, and only after it is treated does it discharge several miles in the ocean
Storm drains - Urban runoff drains from curbs and gutters into catch basins, where it travels to storm drains and then drains directly into creeks, rivers, bays and oceans – untreated.
Prep before it rains to make sure storm drains stay clear:
Make sure trash cans are covered with secure lids.
Clear excess debris from lawns such as leaves and extra grass that can clog drains.
Soak-up driveway oil leaks with kitty litter, then sweep into a bag and dispose of properly. Click here for County of San Diego Household Hazardous Waste Information Contact List
Use environmentally friendly pesticides, herbicides and fertilizers to reduce the pollutants getting washed away. 
More ways to take care of your bay:
We know you love your bay, you own it, you want to take care of it, it's your number one priority; you are ready to change your relationship status to make it official. Okay, maybe that's a bit much, but we all love San Diego Bay and want to be sure it stays the pristine natural resource it is for generations to come. When you visit, we want you to say to yourself, #ThatsMyBay! And sometimes, it just takes a simple reminder not to take your bay for granted. So the Port of San Diego is here with helpful tips and suggestions on how we can all do our part to keep our bay looking classy, not trashy!