Port of San Diego's Harbor Police Department Names Officer of the Year
Contact: Brianne Mundy Page, 619.348.1518, bpage@portofsandiego.org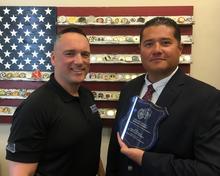 Corporal Armando Ramirez has been named the Port of San Diego Harbor Police Department's 2018 Officer of the Year. The annual award recognizes individuals for exceptional service, teamwork and initiative and is among the highest honors bestowed by the Harbor Police Department, which protects and oversees the safety of the San Diego Bay waterfront.
Corporal Ramirez is a 12-year Harbor Police veteran and has been assigned as a detective on the Investigations and Intelligence Unit for the past five years. In 2017, he was instrumental in closing several significant investigations including an attempted carjacking and stabbing. In that case, a man approached a couple with a knife and took the wife hostage. Her husband fought back and was brutally stabbed multiple times before the suspect fled the scene. Corporal Ramirez took the lead with other detectives, and after reviewing hours of video and following up on tips and leads, he learned the suspect had fled to Mexico. In coordination with federal law enforcement agents at the border, the suspect was detained as he crossed back into the United States and was arrested for attempted murder.
"Corporal Ramirez worked tirelessly to identify and locate the suspect in this case," said Harbor Police Chief Mark Stainbrook. "His tenacity and commitment to conducting thorough investigations gets results and makes him the kind of leader we're proud to have on our force."
In another case in 2018, Corporal Ramirez identified and arrested a serial burglary suspect who was linked to numerous crimes throughout San Diego County. While executing a search warrant of the suspect's residence, he recovered stolen property including heirloom jewelry, credit cards used to buy thousands of dollars of merchandise, and one family's irreplaceable $10,000 violin. Corporal Ramirez painstakingly ensured all the property was returned to the rightful owners, including hand-delivering the violin.
Other notable cases included the successful prosecution of the sexual assault of a juvenile lured to San Diego over the internet, an elder abuse fraud case, and obtaining several stay-away orders against several prolific criminal offenders with the assistance of the City Attorney's Office.
In addition to his investigative duties, Corporal Ramirez is also a field training officer and a member of the Harbor Police Dive Team.
About THE Port of San Diego
The Port of San Diego serves the people of California as a specially created district, balancing multiple uses on 34 miles along San Diego Bay spanning five cities. Collecting no tax dollars, the Port manages a diverse portfolio to generate revenues that support vital public services and amenities.
The Port champions Maritime, Waterfront Development, Public Safety, Experiences and Environment, all focused on enriching the relationship people and businesses have with our dynamic waterfront. From cargo and cruise terminals to hotels and restaurants, from marinas to museums, from 22 public parks to countless events, the Port contributes to the region's prosperity and remarkable way of life on a daily basis.
ABOUT PORT OF SAN DIEGO PUBLIC SAFETY
Port of San Diego Public Safety protects and oversees the safety of our dynamic San Diego Bay waterfront—land and sea.

Port Public Safety is responsible for safeguarding waterfront parks and land, maintaining homeland security and collaborating with agency partners to deter crime locally and abroad. Through the Harbor Police Department, the Port provides for the safety of our communities and resources along San Diego Bay and at San Diego International Airport, and is seen as a global leader in maritime and aviation public safety.