Port of San Diego Honored for Special Achievement in GIS
Contact: Tanya Castaneda, (619) 686-6330, tcastaneda@portofsandiego.org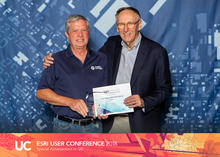 Esri, the global leader in spatial analytics, presented the Port of San Diego with Esri's Special Achievement in GIS (SAG) Award on July 11, 2018 at the annual Esri User Conference. The Port of San Diego was selected from among 300,000 candidates. The Port received the award for its innovative application of mapping, data analytics, and thought leadership in the field of Geographic Information Systems (GIS). 
Malcolm Meikle, GIS Supervisor, received the award on behalf of the Port. In Meikle's 20 years at the Port, he has organized and created the existing GIS systems from inception to the current enterprise system.   
"The Port of San Diego is honored to receive this year's Special Achievement in GIS," said Port of San Diego Chief Executive Officer Randa Coniglio. "The SAG award reflects our transformation to a 21st Century Port because it honors our leadership in the field of GIS. Congratulations to Malcolm and everyone else involved in deploying GIS at the Port." 
The SAG Awards are meant to show appreciation for organizations that are using GIS to solve some of the world's toughest challenges. Through The Science of Where – the technology of GIS combined with the science of geography – the users honored with these awards are demonstrating the most groundbreaking and transformative possibilities of GIS Software. Its uses at the Port range widely, from law enforcement situational awareness to storm water management. 
"Esri User Conference is a great forum for our users to come together and share the amazing ways they are implementing GIS technology," said Jack Dangermond, Esri founder and president. "The organizations recognized here are creating maps and using spatial analytics to make a difference in the world. We are honored to present these awards." 
About THE Port of San Diego
The Port of San Diego serves the people of California as a specially created district, balancing multiple uses on 34 miles along San Diego Bay spanning five cities. Collecting no tax dollars, the Port manages a diverse portfolio to generate revenues that support vital public services and amenities.
The Port champions Maritime, Waterfront Development, Public Safety, Experiences and Environment, all focused on enriching the relationship people and businesses have with our dynamic waterfront. From cargo and cruise terminals to hotels and restaurants, from marinas to museums, from 22 public parks to countless events, the Port contributes to the region's prosperity and remarkable way of life on a daily basis.