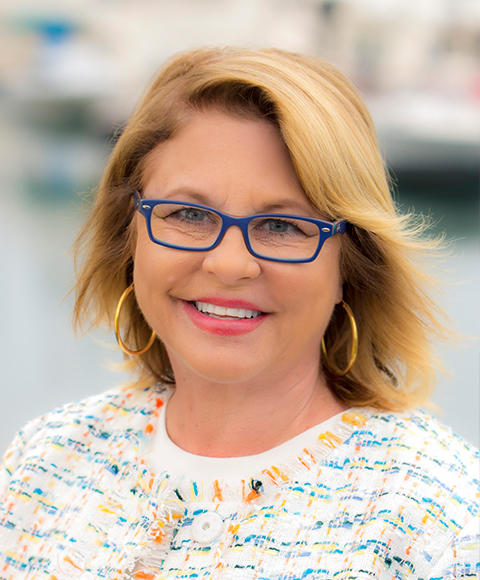 Randa J. Coniglio
President/Chief Executive Officer
Randa Coniglio, president and chief executive officer of the Port of San Diego since June 2015, is the Port's first female president and CEO. Under her leadership, the Port has experienced a 43.17% revenue increase from $149.9 million in FY16 to $205 million in FY19.
Other notable achievements under Coniglio's tenure include receiving a $10 million grant from the U.S. Department of Transportation for the modernization of the Tenth Avenue Marine Terminal; the growth of the Port's cruise industry from approximately 67 calls in the 2015-16 season to 140 calls anticipated for the 2020-2021 season; the return of Intercontinental Hotel to San Diego with its opening on the North Embarcadero in 2018; the launch of the Blue Economy Incubator, a program to support entrepreneurship, foster sustainable aquaculture, and help drive blue tech innovation; and becoming the first U.S. port to receive national accreditation by the American Public Works Association, and one of the first ports to adopt a Climate Action Plan.
Projects currently underway include the transformation of the Chula Vista Bayfront with construction on the Gaylord Pacific resort hotel and convention center anticipated to begin in 2020; and the Port Master Plan Update, a comprehensive and inclusive initiative to update the Port's water and land use plan.
Through others-focused leadership, Coniglio is especially focused on creating a sustainable 21st century port workplace culture where employees do the greatest good by doing remarkably well.
Coniglio joined the Port in 2000, working in real estate operations before being named executive vice president of operations, and later, CEO. Prior to the Port, she spent eight years handling a local portfolio of commercial investment properties for a Japanese firm, and five years in retail leasing and development. Coniglio holds a bachelor's degree in chemistry from the University of California, San Diego.