See the Harbor Police in Action
Location Information
See the Harbor Police in Action: Public Invited to Live Training Demonstration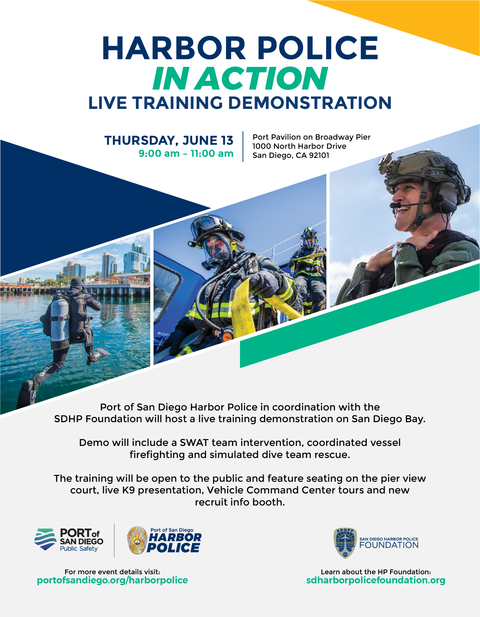 The Port of San Diego Harbor Police Department invites the public to a live training demonstration on San Diego Bay on Thursday, June 13, 2019. The demo will include a SWAT team intervention, coordinated vessel firefighting and a simulated dive team rescue – all taking place on a training vessel secured to Broadway Pier.
Event details:
Date: Thursday, June 13, 2019
Time: 9 – 11 a.m.
Location: Port Pavilion on Broadway Pier, 1000 North Harbor Drive, San Diego, CA 92101
"This is a chance for the public to get a firsthand look at the specialized training and skills of our Harbor Police officers," said Chief Mark Stainbrook, Port of San Diego Harbor Police Department. "You'll get to see how we fight fires on the water, how our dive team operates, how our SWAT team solves tactical problems on vessels, and more. Bring your friends and family to experience this rare event."
For the best views of the action, public seating will be available on the Broadway Pier View Court, which is located on the west side of the Port Pavilion. In addition to the live action demonstration, there will also be a live K9 presentation, Vehicle Command Center tours and a Harbor Police recruit information booth.
This event is being held in coordination with the San Diego Harbor Police Foundation. For more details about the June 13 live Harbor Police training demonstration, go to portofsandiego.org/harborpolice.
The Port of San Diego Harbor Police Department provides for the public safety of our communities and resources along San Diego Bay and at the San Diego International Airport.
Port Pavilion
Address
1000 N Harbor Drive
San Diego, CA 92101
United States